WHAT IS ICED OUT JEWELRY ?
Here's Everything You Need to Know:
When you step outside for the day, you rock some stylish jewelry to look fresh every time, right? We're guessing you've even got a dope jewelry collection at home.
But you want to add more bling to your look. If that sounds like you, then Iced Out Jewelry is exactly what you need to elevate your style to the next level!
If you want to learn what iced out jewelry is all about, then this post contains it all — from what it is to how it became popular to where you can buy the finest quality. 🏆
What Does Iced Out Mean?
By definition, the words "iced out" are used for jewelry and decorations that sparkle because they're covered fully in diamonds. 💎
So iced out is any type of jewelry, including rings, chains, bracelets, watches, and even cross pendants, that are covered with diamonds.
When you're wearing iced out jewelry, it's guaranteed that you'll turn heads because nothing catches the eye like the sparkle of flashy Gem Stones.
So people typically wear iced out jewelry to flex and let everyone know that they're both stylish and wealthy. Or put another way, people want to show everyone that they've officially made it. 💰 
Iced Out Synonyms
But don't get confused by all the different terms surrounding iced out jewelry. To help you make the most sense of it, here are a few relevant terms:
1. Bust Down
Bust-down means any expensive piece of jewelry that is covered with a lot of diamonds. So if someone wears nothing but diamond encrusted jewelry, he can say that everything he wears is bust-down! 💎
2. Diamond Encrusted
As the name implies, diamond encrusted means that the jewelry is covered by diamonds.
3. Icy
When someone says their clothes or jewelry is icy, it typically means that it's cool and looks expensive. 💰
While this one doesn't automatically imply diamonds, it basically means the same thing. Why? Because what's more shiny and expensive looking than some good ol' diamonds? Exactly! 💎
4. Chipped Up
Chipped up means that you're wearing a piece of jewelry that has lots and lots of diamonds in it or even Cubic Zirconia Stones. Though some people use this term for jewelry covered by other cool stones as well and often the pieces are also Gold Plated. ✨
5. Wrist Icicle
Remember how ice usually refers to shiny jewelry? So wrist icicle is basically a shiny watch or bracelet that has lots of diamonds or other shiny stones on it. And when you put that wrist icicle on, you have a frozen wrist! Not literally, but in a cool way. 🥶
6. Bling Bling
We bet you already know this one. But just as a reminder, bling is originally a Jamaican slang term that's become an important part of the hip hop scene.
We know diamonds don't make any noise, but if they did, bling bling is what it would sound like! 
So bling can be anything, from diamond encrusted jewelry to shiny platinum rims on a ride. If it's cool and shiny, it's bling bling! 💰
7. Shinin'
What happens when you put all of the above together? That is, you add bling and ice to most diamond cut pieces of your outfit. You start shinin'!
While there are countless terms that people use for iced out jewelry, you know a lot more than most people just by knowing the seven we've talked about above.
History of Diamond Jewelry
From the 75,000 year old jewelry discovered in Africa to Floyd Mayweather's $10 million diamond chain, jewelry has always symbolized one thing: status. 👑
Even though jewelry has always existed, it has never been as popular as it is today. From the most influential rap stars of our time to the most famous soccer & basketball players and even famous boxers, everyone owns some jewelry.
This is thanks to the "hip hop" movement which started back in the early 1970s. The hip hop culture was first popularized by DJ Kool Herc at his famous block parties. 🎵
In the 1970s, everyone — from Elvis Presley to Richard Nixon — fell in love with hip hop. Those are the years when hip hop, bling bling, and iced out jewelry became popular, as the biggest stars of that era wore flashy jewelry to flex their wealth.
Over the following decades, bling bling and iced out jewelry gained more popularity, as more and more famous people started to wear them.
Today, iced out is one of, if not the most popular type of jewelry because nothing is as flashy as a piece of jewelry covered with sparkling diamonds.💎✨
Types of Iced Out Jewelry
Iced out jewelry is available in many forms, such as pendants, chains, rings, earrings, grillz, watches, glasses, bracelets, belt buckles, and countless more.
Let's discuss the 8 most popular ones.
1. What Is an Iced Out Chain?
Iced out chains are like Jordans for our necks. They look good on everyone as they contrast their skin tone and highlight their best features.
When you're wearing hip hop chains, you will enjoy the following three benefits:
You will receive a never-ending stream of compliments.

Your every outfit will be elevated automatically.

Your chain will last literally for the rest of your life because iced out jewelry never goes out of style.
Before buying an iced out chain, you should consider what type of look you're going for.
For instance:
If you're going for a subtle and classy look, then an Iced Out Tennis Chain can add bling to your attire with taste and without overstating it.
If you're looking to turn heads with flashy jewelry, then a 14MM Cuban Link is what you need. It's a thick chain with big CZ stones that look drippin'.

If you're going for a smooth and sleek look, then the Prong Cuban Link  is a great choice.
After deciding the look you're going for, the next step is to find a chain that fits your neck.
Iced out chains range from 14 to 30 inches long and 1 to 21 millimeters wide, so they are available in virtually countless variations.
To ensure you don't buy a piece that hangs too high or too low, or is too tight around your neck, measure your neck and find out the length that will look best on you.
2. What Are Iced Out Grillz?
Grillz have been a status symbol for thousands of years. In fact, researchers date back the oldest grillz, 2 golden teeth on a man buried in Giza, to 2500 BC.
So the trend of wearing grillz to show off fortune has been around for a long time. It has not changed as even today, an icy smile is the ultimate display of wealth in the hip hop industry.
That's why you see so many popular rappers wearing iced out, gold, and silver grillz.
They aren't just for popular artists and rappers either. You too can wear them to smile bright and take your iced out style to the next level!
Here are the TOP 3 selections from our collection:
If you want to go for a simple, smooth, and subtle look, then the Iced Out Frozen Teeth

are perfect because they don't attract too much attention.

If you want more flash, you should check out the Vampire Fang Grillz. It's the most premium looking piece made up of gold VVS CZ stones and a border of sparkling ice.
If you like colors, you will love this Iced Out Rainbow Grillz by 6IX9INE. It's made up of colorful hand set stones that shine as bright as the stars.
3. What Is an Iced Out Pendant?
Hip hop pendants are arguably the most popular type of iced out jewelry. From 1970 to today, they have been worn by everyone — from rich noblemen to popular rappers.
The trick to finding an ideal pendant for yourself is to not focus solely on the visual appeal, but also on what the pendant represents.
If you didn't already know, each pendant represents something. For instance:
The Cross Pendant represents the love for Jesus and is believed to bring the wearer peace, comfort, and protection. It's a simple yet stunning design that turns heads like no other cross pendant. You can wear it to a religious event to go in style while declaring your love for Jesus.

The Jesus Pendant represents GOD. You can wear it to let people know that you're the alpha and that you must be treated with respect. It's a handcrafted 3D piece made up of 5x PVD Plating & VVS CZ gold stones that shine as bright as the sun.
The Heart Pendant represents the fearless wild side & love. It's for people who prefer wild and dangerous over smooth and sleek. Flooded with high quality VVS CZ stones, these Heart Pendants gives the best iced out look!
Similarly, every other pendant represents something. You want to find one that represents what you believe in, so that it matches your personality.
You can browse our entire collection of flashy iced out pendants here below.
4. What Is an Iced Out Earring?
Do you think earrings are not for men? Think again! The trend of men wearing earrings to show their individuality is more popular than ever.
Celebrities, like Snoop Dogg, Kanye West, Jamie Foxx,  and Michael Jordan, regularly wear iced out earrings to flex their wealth. 💰
So why shouldn't you?
When you're looking for an earring, find one that matches your skin tone.
For fair skin:

Wear colors like silver or white gold and stay away from colors like rose gold because they bring out the pink in your skin.

For pale skin:

Stick to white or silver and stay clear of yellow golds.

For dark skin:

Go for gold because it looks vibrant and eye-catching against your skin. Silvers and white work for you too, but gold is your best match.
Face shape is another factor you need to consider. For instance, while round or curved earrings work best for oblong faces, square or straight earrings work best for round faces.
Other than skin tone and face shape, one more thing you need to consider when buying an earring is that it shouldn't draw attention away from your outfit.
Remember, your outfit is the ice cream. And the accessories such as chains, pendants, and earrings, are the cherry on top. So your earrings must compliment your outfit. Not the other way around.
Here are the TOP 3 ICED OUT EARRINGS in our store:
If you have pale, olive, or fair skin, our White Gold 

8MM Iced Out

earrings will look great on you. They're handcrafted iced out pieces that will make you look drippin' for sure!
If you have dark skin, our Yellow Gold 

8MM

Diamond 

earrings will look vibrant against your skin while highlighting your best features. They're made up of the highest quality CZ stones that shine like the sun!

If you're looking for cross earrings to show your love for your religion, our Baguette Cross earrings are for you! They're made up of white gold plated CZ stones that don't sparkle too bright, giving you a subtle and classy look.
You can browse our entire collection of icy hot earrings here below.
5. What Is an Iced Out Bracelet?
Do you think bracelets are not manly? Tell that to the knights, kings, and warriors from various cultures who wore them on their wrists centuries ago.
The fact is, men have worn bracelets for centuries, and while they're not a necessity, they can take your style to a whole new level.
An iced out bracelet is perfect for adding more bling and an extra ounce of oomph to your outfit. But to do that, you must carefully choose the right fit for your wrist.
When buying an iced out bracelet, you should consider the following:
The Size:

Your bracelet should fit perfectly around your wrist. It shouldn't be too tight that it squeezes your wrist and stops the blood flow. But it should also not be so loose that it rides up and down your forearm. The key is to have that snug fit where it feels firmly positioned without being tight at all.

Overall Style:

Remember, accessories and jewelry in general are used to personalize your overall look. So your bracelet should complement your overall style.

Color:

Silver and white bracelets look best on pale or fair-skinned people, while golden bracelets look best on dark-skinned people.
Here are our TOP 3 Hip Hop Bracelets from our collection:
Our Cuban Link Bracelet

will make you the life of the party! It's made up of top-shelf CZ stones that sparkle so bright that you're sure to turn heads.

Our 5MM Tennis Bracelet

is for those of you who're looking for a thinner, more subtle bracelet. It's a custom-made piece that will make you shine all day and night long!

Our Iced Out Spike Bracelet attracts attention like no other. With icy spikes joined together through a diamond-encrusted link chain, this bracelet is an attention grabber.
After you've bought a bracelet, remember that you can take it off.
You don't have to wear it everywhere, and it's smart to own more than one because no bracelet works for every occasion.
While thin and dark bracelets work best for formal occasions, thick and flashy bracelets make you the life of parties and other social gatherings with your friends.
6. What Are Iced Out Glasses?
Rap legends like Quavo, Jay Z, and Snoop Dogg, all agree that no other piece of jewelry makes you look as classy as Iced Out Glasses.
The key to finding the right glasses is to look for frames that match your face shape. 
For diamond faces:

You should look for round frames that are wide at the top.

For round faces:

You should look for frames that put more emphasis on the width than the height. Usually, rectangular frames look great on round faces.

For square faces:

You should look for round frames that neutralize the "extreme angles" of your face.
Iced out glasses are the pieces you need to make your outfit perfectly iced out.
At Iced Up London, we offer a wide variety of both chic and stylish iced out glasses to blow people away in the most attractive way as soon as they look at you.
Here are the TOP 3 Iced Out Glasses from our collection:
The Iced Out Miami sunglasses when worn with summer clothes in Miami, or any other hot area, give off a cool vibe that says, "I know how to beat the heat!"
The Iced Out Buffs glasses are great for wearing at parties because they give you an icy sharp look. They have square frames covered with CZ stones that make your eyes shine as bright as the stars!
The Iced Out Huncho glasses are for those of you who're looking for a thinner, more subtle piece that complements a classy outfit.
You can browse our entire collection of bust down glasses here below.
7. What Is an Iced Out Watch?
An iced out watch is the best way to flex on your friends. To wear a watch with style, you should match it with your outfit to ensure it enhances your look — not dominates it.
Here are some tips to wear an iced out watch with style:
Match your metals:

Find out the color of the metal on your belt, rings, and cufflinks, and match them with the color of your watch. Gold with gold, silver with silver, and so on.

Wear according to the occasion:

No watch works for every occasion. For instance, it's smart to wear a dress watch to your office, business meetings, and the country club, but not to your friend's home or a party.

Make sure it's metal:

Some watches have plastic cases that are made to look like metals, but don't look nearly as good. Stay clear of these watches unless you intend to wear them for swimming, running, or playing games.
At Iced Up London, we offer the highest quality iced out watches that are as classy as they come. You can browse our entire collection here below.
8. What Is an Iced Out Ring?
An iced out ring brings attention to your fingers. Pair it with a watch and bracelet, and people will be staring at your hands during parties and you'll get non-stop compliments.
Here are 3 Tips to wear rings the right way:
Find the right size:

If you have small hands, wear small rings. Similarly,

if you have large hands, go with a larger ring.

Balance jewelry:

Never crowd jewelry together. For instance, if you're wearing a ring and a wedding band on your right wrist, balance it by wearing a bracelet on your left wrist.

Wear according to your skin tone:

Basically, your skin has either a cool tone, when your veins are visible, or a warm tone, when they aren't. Gold watches work best with warm tones, and silver ones look best on cool tones.
From the Icy Square to the Iced Out Star to the Skull Ring, we offer a wide variety of iced up rings. You can check out our entire collection here below.
Where Can You Buy Bling Jewelry?
If you want to buy the best iced out jewelry that will maintain its luster for a long time, then you've come to the right place. At Iced Up London, we provide an extensive range of iced out jewelry — from chains to pendants to glasses — for more than reasonable prices. 💸
When you buy from us, you can rest assured that you're getting only the highest-quality iced out products that will last for years to come.
So if you're thinking about adding some quality jewelers iced-out apparel to your collection, then what are you waiting for? Treat yourself and shop from our finest selection! 👑
Does Iced Up London Sell Real Iced Out Jewelry ?
At Iced Up London, we sell products made from only the finest VVS CZ stones on the planet. That's why our customers can't stop appreciating the quality and durability of our bling.
We have one of the largest collections of jewelry that is iced out to the core, including hip hop rings, chains, grillz, bracelets, pendants, and everything else in between.
So if you want to flex on people with some of the flashiest jewelry without killing your bank account, head over to our store and get yourself some affordable bling today!
Why CZ Stones Jewelry are the Best ?
Unless you're a millionaire, we imagine you wouldn't want to spend thousands of dollars on a piece of jewelry with real diamonds, right?
Does that put iced out jewelry out of the question for you?
The answer is a resounding no. You can get bling made from the highest quality Cubic Zirconia (CZ) stones at our store at more than reasonable prices. 💸
What is Cubic Zirconia?
Cubic zirconia is a colorless gemstone synthetically made from the cubic crystalline form of zirconium dioxide.
It's also found naturally in the mineral baddeleyite. However, that's extremely rare. That's why virtually all the cubic zirconia jewelry is made from artificial gemstones made in a lab also called (Lab Diamonds). 💎
How Is Cubic Zirconia Different from a Real Diamond?
While you may think CZ stones would look fake since they're not real diamonds, the truth is, 99% of people can't tell the difference at all. Whatsoever.
However, looks are the only similarity between the two. In every other department, including structure, price, and color, they're quite different.
Let's discuss the differences in depth.
First off, real diamonds almost always have some small inclusions that give them a slightly flawed appearance. Of course, there are completely flawless pieces, but those are extremely rare and ridiculously expensive.
CZ stones, on the other hand, are always flawless with no inclusions at all because they're made in labs.
Other than structure, cubic zirconia is significantly cheaper than diamonds. For instance, a one carat CZ ring sells for $13.99, while a similar one carat diamond ring sells for $3,630.
As another example, a one and a half carat princess cut cubic zirconia ring sells for $37, while a 1.4 carat princess cut diamond ring sells for $9,815.
As you can see from our examples, as carat weight increases, the price gap becomes even larger.
In short, jewelry made from cubic zirconia is 100X less expensive than jewelry made from real diamonds.
Another big difference between diamonds and CZ stones is the color.
In diamonds, the more colorless a stone is, the more rare, beautiful, and valuable it is. The color for diamonds is graded on a scale from D (colorless) to Z (yellow). On the market, you can find diamonds in every grade from D-Z, and the ones closest to D cost significantly more.
On the other hand, since CZ stones are lab-created, they're always colorless, akin to the stunning look of the best D grade diamonds.
Also, if you're into colored jewelry, colored diamonds (like red, pink, or blue) are extremely expensive and rare. Colored CZ, on the other hand, is as cheap as colorless CZ.
How Is Cubic Zirconia Made?
The following steps are involved in the making of cubic zirconia:
Zirconium oxide powder is melted with stabilizers like calcium and magnesium at 4,982ºF.

After being melted, crystals form out of the remains and stabilize naturally.

Those crystals are then cut and polished using specific methods.
How Long Does Cubic Zirconia Last?
Typically, cubic zirconia lasts two to three years. However, if you take care of your jewelry and don't wear it every day, it can last up to five years.
Does Cubic Zirconia Rust?
No, it doesn't. Cubic zirconia is one of the rare gemstones on the planet that are safe from rust stains.
Does Cubic Zirconia Sparkle As Bright As Diamonds?
The intensity of a gemstone's sparkle depends on its dispersion — how the stone breaks down light into the spectral colors of a rainbow.
Diamonds are popular for their ability to play with light brilliantly. Diamonds have a dispersion rate of 0.044, which is quite high.
CZ stones, however, have an even higher level of dispersion at 0.066. That's why when hit by light, they create a unique "rainbow effect", which is another tell-tale difference between zirconia and diamonds.
The rainbow effect is only visible in big stones with at least a couple carats of CZ. On smaller stones, the effect happens to such a small extent that's not visible to the naked eye.
Bottom line?
If you want to flex on people with jewelry that shines as bright as the stars, you should go with cubic zirconia. It sparkles even more intensely than real diamonds.
What Type of Jewelry Do Rappers Wear ?
Rappers wear all kinds of iced out jewelry. Bling chains, rings, grillz, watches, glasses, pendants, earrings, bracelets… you name it, they wear it!
But as with everything, every rapper has his own interest in different jewelry. Some prefer huge flashy pieces, while others go with small, more subtle pieces.
Rappers who are just starting out typically stick to wearing only chains.
Others, who are more experienced with pulling off flashy pieces like Quavo, Snoop Dogg, Travis Scott and Lil Wayne, wear all kinds of icy jewelry, often multiple pieces at once.
Who to Follow to Check Out Popular Trends in Hip Hop Jewelry?
Here's our list of the three most popular rappers who're into iced out jewelry — you can follow them to check out the popular trends in iced out jewelry. 💎
1. Quavo
If you're into iced out jewelry, then you should take notes from Quavo. His style in his own words is, "classy and legendary!". We agree, as his jewelry game is on fire! 🔥
He manages to pull off diamond glasses, chains, and bracelets effortlessly.
So those who want to see subtle, classy, and not overdone iced out jewelry trends, we suggest that you follow Quavo because no one keeps it as classy as him.
2. Lil Pump
If you love big chains covered by diamonds, then you should follow Lil Pump. He loves his chains and you will often see him wearing multiple necklaces, bracelets, and pendants at once. 
Although his style may not be as classy as Quavo's, he's definitely a bigger ambassador of the iced out style. He has even written an entire song dedicated to iced out jewelry. 🎧💎
3. Trippie Redd
Trippie Redd loves his diamonds! He rocks all sorts of iced out jewelry, including rings, chokers, grills, earrings, bracelets, and pendants. If you like a more savage punk look 🤘💀, all covered in diamond, then Trippie Redd is the one to follow.
Even though he wears a ton of iced out jewelry, he still, somehow, manages to make it look smooth and sleek... Just kidding he goes for the massive iced out pieces like the Trippie Redd Chain & Trippie Redd's Grillz that shines everybody with the most "dangerous" pieces. 💀
4. Lil Baby
Lil Baby loves his diamonds! He rocks all sorts of iced out jewelry, including rings, chains, grills, earrings, bracelets, and pendants. If you fancy the all covered in diamond look, then Lil Baby is the one to follow.
Even though he wears a ton of iced out jewelry, he still, somehow, manages to make it look smooth and sleek.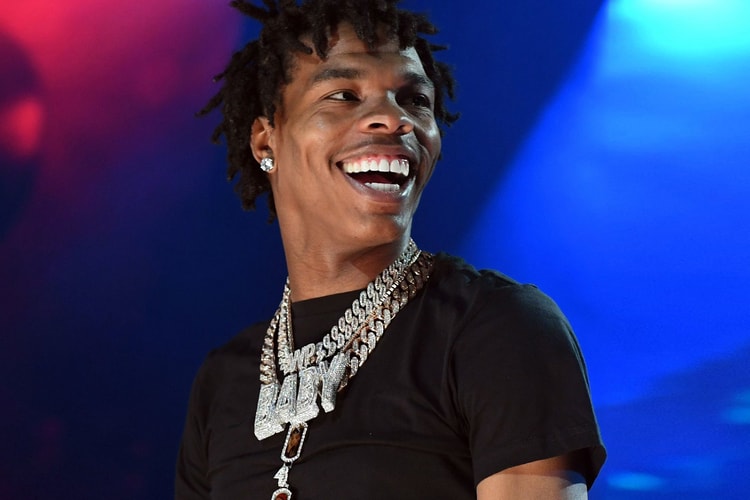 5. Waka Flocka Flame
Waka Flocka Flame is one of the biggest ambassadors of iced out jewelry.
In 2009, his 2 singles, "No Hands" and "Hard in da Paint" made it on the Top 20 of the Billboard Hot 100 Chart which skyrocketed him into rap stardom.
His real name is Juaquin James Malphurs. He was given his stage name from the catchphrase "waka waka" by Fozzie Bear — who is one of Jim Henson's Muppet creations.
That's why Malphurs spent an estimated $120,000 on making an iced out replica pendant of Fozzie Bear attached to a thick, flashy link chain.
If you have a taste for big chains, you're going to love Waka Flocka Flame's pieces.
6. Jay Z
Jay Z is another rapstar who can pull off huge chains effortlessly. He wore his first massive 11 pound Cuban gold chain at the So So Def 20th anniversary concert in 2013.
That piece was crazy big and got a whole lot of attention in social media. Since then, Jay Z has been introducing new massive iced out chains every year.
If you're a fan of big and simple chains, Jay Z is the one to follow.
7. Lil Uzi Vert
Did you know Lil Uzi Vert said that his biggest influence in the music industry is the notorious dark lord of Goth-rock, Marilyn Manson?
A few years ago, Uzi honored his idol by spending $220,000 on a chain displaying Manson's head wearing Mickey Mouse ears, like he did when he performed.
That piece was made by Ben Baller, who claims the chain has over 60,000 diamonds on it! If you think that's crazy, wait till you take a look at Lil Uzi's latest pieces.
8. Kanye West
If you're into unique hip hop jewelry, you should definitely check out Kanye's collection.
Although he can sometimes have "out there" ideas, there's no denying the man knows how to rock bling bling jewelry with style.
Over the last few years, he has come up with some of the most unique pieces we've ever seen. For instance, he managed to rock a chain of a near life-sized head of the Egyptian god Horus.
9. T Pain
T Pain is famous for owning a collection of absurd jewelry. His Big Ass Chain, which literally says "Big Ass Chain", alone cost $410,000 because it had over 200 carats of diamonds encrusted on it.
Although T Pain doesn't introduce new pieces as often as other rappers on our list, when he does, you can bet it's the finest jewelry you will ever see.
10. Takeoff
If you're into expensive chains, you should check out the collection of Takeoff.
Over the last five years, the artist from Migos has brought us numerous wonderful chains that in his own words are, "insane yet classy".
Out of his collection, the one that caught our eye is the chain of the solar system. It shows a space shuttle blasting off towards the sun with the rest of planets on the chain as well.
Every part of that chain is covered with blinding diamonds that cost over $500,000!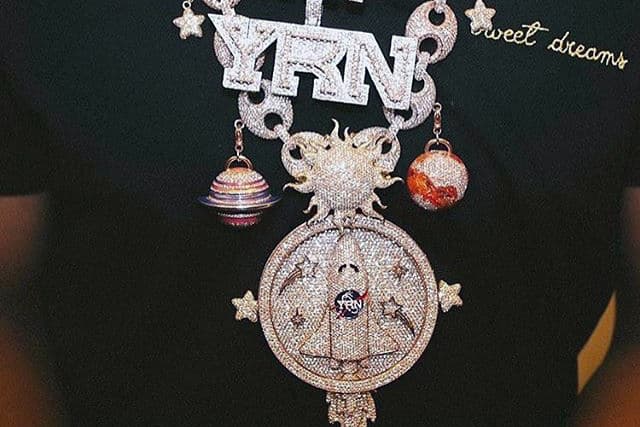 11. Soulja Boy
Soulja Boy's biggest hit "Crank That" made him a rapstar literally overnight when he was just 17.
Inspired by his success, he created a sports chain that reads, "The World is Yours" to spread inspiration and to keep a memento of his success.
Since then, he has been introducing new chains, rings, and earrings every year.
He claims that one of his chains is worth over $500,000 and his entire jewelry collection is worth over 3 million — after seeing his collection, we believe him.
12. Mike Jones
If you love big chains covered in ice, you should follow Mike Jones. He loves his chain and you will often see him wearing multiple chains, rings, and bracelets at once.
He has his own music label called Ice Age Entertainment, which he celebrated by making a huge chain out of the logo covered with 100 plus carats of diamond.
He claims that chain alone cost him over 1 million $, making it one of the most expensive bling bling pieces ever.
13. Pharrell
If you're into colorful jewelry, you should take notes from Pharrell. Over the past few years, he has introduced dozens of colorful chains, rings, and pendants.
He even matched Mike Jones by spending one million bucks on a chain with his band's N.E.R.D. logo on it smothered in colored diamonds.
The piece was made by the famous jeweler, Jacob, who says it's easily over 50 carats of diamonds.
14. Rick Ross
Rick Ross is known for living an extravagant lifestyle. He's one of the extremely rare people on this planet who own almost their weight in iced out jewelry.
He has countless unique pieces in his collection, including his flagship piece which is a chain of his own face, iced out MMG piece, and black bottle boy pendant.
Out of his collection, the one that stood out most to us was his face piece. He is probably the first rapper in history to put his own face on his bling.
15. Gucci Mane
We saved the best for last. The self-proclaimed king of jewelry who definitely lives up to his name, Gucci Mane loves to splurge his riches on bust down jewelry.
From watches, bracelets, and rings to chains, pendants, and glasses, Gucci Mane owns every piece of iced out jewelry you can think of.
He owns some of the iciest bling in the game and he constantly upgrades his collection.
Just recently, he dropped a million dollars on a new Hublot watch which is as stunning as it is expensive. He also bought his wife a 60 carat diamond just to say thanks.
If you're going to follow only one rapper to keep with the latest iced out trends, follow Gucci Mane.
How to Style Your Iced Out Jewelry?
So now that you know what iced out jewelry is all about and where you can buy it, the only thing left to discuss is how you can style your jewelry with the rest of your Bling.
Here are 6 TIPS that will help you rock iced out jewelry: 
1. Wear Only With Solid Color Clothes:
So after buying an iced out chain, bracelet, or pendant, you're wondering how to wear it right for the first time so that you can floss on everybody around, right?
If so, then you should know that when it comes to rocking iced-out pieces, you should try to make the bracelet or chain the focus of your entire outfit.
Wearing shirts with multiple colors or loud patterns can take the focus away from the iced out accessory. So instead of wearing colorful shirts, you should pair your chain or bracelet with a solid color shirt — any shirt that has only one color. 👌
However, if you're the type of guy who can't go out with a simple solid black shirt and needs to add a little flash to his wardrobe, then rock a red velvet blazer paired with your favorite iced-out chain to look fresh to death. 💎☠️
2. Know When You're Wearing Too Much
Remember, your jewelry is the cherry on top of your outfit. Like every other accessory, it should complement your overall look — not dominate it.
One way your jewelry can dominate your look is when you're wearing too much.
People often wear too many chains and necklaces, or too many watches and bracelets, or too many rings. Doing so makes their accessories the entire focus of their outfit.
To avoid wearing too much, stand in front of a mirror. If your eyes focus solely on one part of your outfit, that's a sign you need to take it down a notch.
3. Keep It Simple
With jewelry, more is less. So keep it simple and start with an iced out watch, cufflink, or anything else that doesn't draw too much attention.
Once you're comfortable wearing that piece, treat yourself to something flashier like an icy chain or pendant. But don't go with a piece that looks too hard to be pulled off.
Go with one that you believe will not dominate your overall look, but add to it.
Remember, keeping it simple is key, especially when you're just starting out with bling.
4. Wear According to Your Skin Tone
Our skin color is not the same as our skin tone.
Let us explain.
Skin color, or overtone, is affected by our environment and is the surface layer of the skin.
For example, if you get sunburnt, your skin color will change to a deeper shade. Your skin tone, however, will remain the same. It's never affected by your environment.
When it comes to jewelry, your skin tone matters more than your skin color because it determines what type of metals and textiles look great on your skin.
To find out your skin tone, look at your skin in natural light and focus on a spot where veins are easily noticeable, like your wrist, and if you have:
Blue or purple veins:

You have a cool skin tone.

Green veins:

You have a warm skin tone.

Blue, green, and purple veins:

You have a neutral skin tone.
Once you know whether you have warm, cool, or neutral skin undertones, it's relatively easy to match the proper metal with your skin.
For cool skin tones:

Light metals, such as silver, platinum, and white gold, look best against your skin.

For warm skin tones:

Yellow metals, including brass, rose gold, and yellow gold, work best with your skin.

For neutral skin tones:

White and yellow metals look best on your skin.
5. Match Your Metals
Ask any stylist, and they'll tell you there is a fine line between looking sophisticated and looking gaudy.
One way you can cross the line towards looking gaudy is if you wear too many tones of metals. All your metals, including belt buckles, cufflinks, and rings, should match. Silver with silver, gold with gold, and so on.
6. Wear More Iced Out Accessories
The best way to floss on all your homies is by icing out your entire outfit with multiple diamond accessories, including rings, chains, and bracelets.
And if you really want to catch everyone's attention, then you should purchase an iced out chain along with a large pendant that you can add or remove anytime you want.
However, if you want to wear more while maintaining a subtle look, then go for a thinner chain like the Tennis or the Franco style.
You will still look like a boss with all your ice, but in a more subtle and classy way.
Leave a comment