TOP 20 RAPPER CHAINS & PENDANTS
See which one matches your personality.
Notorious B.I.G's famous claim, "Mo Money, Mo Problems", hasn't stopped rappers from showing off their wealth through diamond studded: iced out chains and iced out pendants. 
The tradition of rappers competing to own the biggest and baddest chains will never die because flashy jewelry is more than just a status symbol for them. 👑
Blinged out chains, iced out pendants, and flashy rings all act as a powerful reminder of how far they've come as an artist.
In other words, the rivalries between rappers to own the best jewelry exists because it's not just a symbol of status for them, it's also a memento of their success because of expensive gemstones. 💎
The great thing about these rivalries is that they have brought us some truly wonderful pieces of jewelry that sometimes even overshadow the music itself.
Let's look at 20 of the wildest chains and pendants brought to us by famous rappers — we bet you will find at least one perfect fit for your outfit. 🔥
While working on his upcoming album and escalating his beef with longtime foe Tekashi 6ix9ine, Trippie Redd flexed a new chain depicting the Crash Bandicoot series villain, "Uka Uka Mask Pendant".
We got to see this piece for the first time in an Instagram post shared by Trippie where he claims the Uka Uka chain to be worth over $400K (we have a much more affordable option in store). 🔥
The piece has bones of varying shapes and sizes hanging down from a large link chain and a centerpiece. On the back, there's a sparkling message written with diamonds. 💎
If you're a fan of the Cactus Jack or Travis Scott chains, then you're going to love this iced out pendant !
Inspired by the Cactus Jack Pendant worn by the famous rapper Travis Scott, our Cactus Jack pendant is a bright yellow, white and rose gold covered with sparkling VVS CZ stones. 💎
The letters of the words "cactus" and "Jack" are inscribed vertically and horizontally, respectively. The two words are joined by a capital "C" positioned at the center of the pendant. 🔥
Do you like scary jewelry? Then you're going to love this Jigsaw pendant.
Tekashi69 came up with this piece made of Billy the Puppet charm hanging from a gold and diamond Cuban link chain. The artist claimed that his pendant was covered with 24.2 carats of diamonds. 💎
But that's not something we can afford, right? That's why we have created a much more affordable Jigsaw clown pendants for you that looks almost exactly the same. 🔥
It's a gold plated, handcrafted piece covered with 5x PVD Plating & VVS CZ Stones. When you're walking on streets wearing it, people will get a "hello, I want to play a game" vibe from you.
Would you like to honor Benjamin Franklin, one of the founding fathers of the United States, by wearing a jewel-encrusted pendant with his face on it? Then this handcrafted 3D piece is for you ! 💎
Inspired by the famous rapper Blue Face, this pendant is covered with blue, gray, and white VVS CZ stones. 🥶
Thanks to the face of Benjamin Franklin made up of sparkling stones, this piece turns heads like no other ! ✨
5.

999 Club Pendant — Juice WRLD
Do you want to shine like Juice WRLD ? ✨
Inspired by the real pendant of Juice WRLD, this 999 club pendant is made up of 24K gold plated skulls and the words "999 Club" inscribed on white gold plates. 💰
It's such a stylish design that's popular among all sorts of buyers — not only among fans of Juice WRLD.
After taking one look, we're betting the first thing you liked about this pendant is how elegantly the numbers "999" have been joined with the word, "club".
It was not long ago when Lil Pump used to wear slightly above average chains and pendants. However, that all changed once he signed an eight million dollar deal with Warner Bros. 
After inking the massive deal, he upped his jewelry game big time. Since then, he has introduced some of the flashiest chains and pendants we've ever seen. ✨
Out of his collection, the Lil Pump Face Chain is the one that stood out the most to the public. It's covered completely with diamonds that cost him over $300,000. 💰
Since that's not within the budget of most of our customers, we offer a significantly more affordable replica of the real iced out chain. 
Our near perfect replica is a handcrafted, 3D piece made up of 5x PVD Plating & VVS CZ Stones. 💎
We know this one is absurd, yet it's been crafted so elegantly that we couldn't resist adding it to our list.
Offset has created the most iced out house pendant you'll ever see. With a gold roof, diamond front and back, the pendant gives off a drippin' vibe like no other.
The trap house pendant in our store is covered with VVS simulated diamonds that shine as bright as the sun. So you too can drip like Offset from Migos. 💎
8. Vlone Pendant — Lil Uzi Vert
In his own words, Lil Uzi's style is "legendary" and we agree, as his jewelry game is on fire ! 🔥
He has brought us so many diamond rings, chains, grills, earrings, bracelets, and pendants that are all subtle, classy, and not over the top. ✨
Out of his collection, the Vlone pendant stands out as the best for us. It's the best one for drippin' on your friends and letting everyone know that you are independent.
With the "V' sign hanging down your neck, people will know you embrace the fact that we are born alone, and we die alone. 
9. Ovo Owl Pendant — Drake
When it comes to expensive jewelry, Drake is one of the best in the game. His affinity for making custom jewelry is no secret as he continues to floss countless flashy pieces every year.
Out of his collection, we liked the Ovo Owl pendant the most. As its name suggests, it's an owl covered in blindingly sparkling diamonds. ✨
It's one of the biggest pendants out there, as Drake claims it's as big as a real owl. Although some expert jewelers disagree by saying that the claim is exaggerated, everyone agrees its still one of the biggest pendants out there.
The big owl is made up of over a kilo of gold and over 100 carats of Asscher cut diamonds. 💎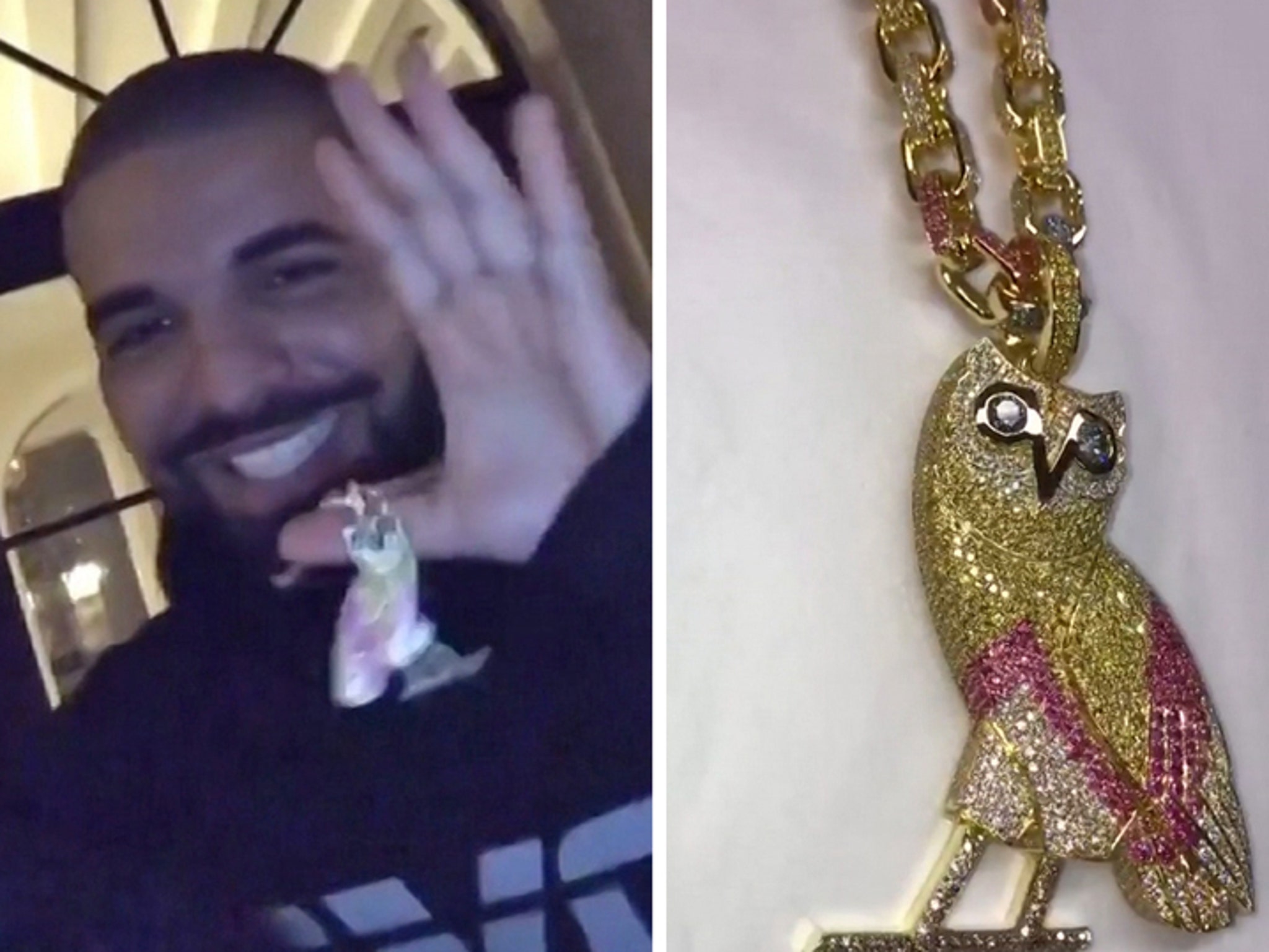 Trippie Redd showcased his then brand new piece in an Instagram video with his music playing loudly in the background while he unveiled a secret smaller pendant inside the chain.
Inspired by that piece, we made our own Iced Out Spike Ball 8 Pendant. It's a handcrafted piece made up of gold, diamond, and red VVS CZ stones.💎
The diamond colored spike with "8" written in red is attached to a gold link chain that you can put around your neck. 🔥
Juice WRLD loves iced out jewelry, just like you and I. 🔥
He's one of the rare artists who can pull off wearing all sorts of iced out jewelry, including rings, chains, earrings, bracelets, and pendants all with original designs ! ✨
The Broken Heart Skull Chain is the finest piece in his collection. It's made of a skull placed between a broken heart attached to a gold chain link with the numbers, "999".
Do you love Jesus? Then you're going to love this Jesus Piece pendant by one of the biggest ambassadors of hip hop jewelry, Kanye West. 🔥
This pendant was created in 2007 by Takashi Murakami, the Japanese artist who created the cover artwork for West's Graduation.
At that time, the Jesus piece was estimated to cost approximately $200,000. 💰
Since that's only in the range of millionaires, we have crafted a replica of the Jesus piece that looks exactly the same because it's made by some of the finest jewelers in the world.✨
If you believe in charms, then you're going to love this pendant that will serve as your guardian angel. ✨
This Angel Pendant has been in demand ever since Waka Flocka Flame introduced this piece to the public a few years ago through his social media accounts.
It's made of a stunning golden angel with big wings doing Anjali mudra.💎
But its looks are not the only reason it's so popular. People love wearing this at night because they can sleep without a worry knowing that their guardian angel is watching over them.
14.

999 Skull Pendant — Juice WRLD
Do you prefer wild and dangerous over smooth and sleek? Then this pendant might just be the one for you.
It's a large skull made up of sparkling stones and the numerals "999" engraved on it. It gives you the best iced out shine because it is flooded with high quality VVS CZ stones. 💎
What makes this 999 Skull pendant even more unique and dashing is the purple and silver piece placed right behind the teeth of the skull. 🔥
Lil Yachty loves to floss his expensive jewelry. His Lock Chain is one of his most popular and most expensive pieces. In fact, it's so expensive that only millionaires can afford it. 💰
We have taken his lock concept to create our own unique iced out pendant that is flooded with VVS simulated diamonds and 14K white gold plating.💎
What's more intimidating than the king of the jungle?
If you want to let people know that you're the alpha and that you're to be treated with respect, then this Lion Head pendant is exactly what you need.
It's a custom made piece covered with 5x PVD Plating & VVS CZ plating stones.
When you're wearing this pendant, it brings the lion out of you ! 🔥
17.

Uka Mask Pendant — Quavo Migos
Are you a fan of the Crash Bandicoot series? If so, then you're going to love this pendant that is the face of the series villain, Uka Uka. 🔥
It's such a specific piece that looks exactly like Uka Uka's face. Every detail of the character's face is exactly the same — from the eyes to lips to the face shape.
The piece is made up of VVS simulated diamonds, emeralds, and rubies that give it a perfect shine. It also has two golden bones hanging down from two small link chains attached to the left and right corners of the head. 💰
If you love Jesus and diamonds, then this is the perfect cross pendant for you! It's exactly like it sounds. A pendant in which a cross is made up of diamond shaped stones. 💎
This pendant became popular after Lil Skies introduced it to the public. Since then, it has been in huge demand. People love it because it's stylish and religious.
According to Lil Skies, his Diamond Cross pendant is perfect for showing people that being religious doesn't mean you can't be stylish. 🔥
19. No Bystanders Pendant — Travis Scott
No Bystanders pendant is based on Travis Scott's hit song of the same name. It's made up of a big prohibition sign of bystanders covered with diamonds. 💎
The money Travis spent on this piece is unknown, but he claims it makes up a big part of his entire jewelry collection, which is worth millions of dollars. 💰
So if you're a fan of Travis Scott or you hate bystanders, then you've found your perfect pendant.
20.

Shark Chain — Tekashi69
Fans have been in disbelief since Tekashi69 claimed that his Shark Chain based on Bruce from the popular hit film, Finding Nemo, is worth over $750K! 💰
Although the debate on the worth of this chain continues, everyone agrees that it's a stunning piece that will remain a hit for a long time. 🔥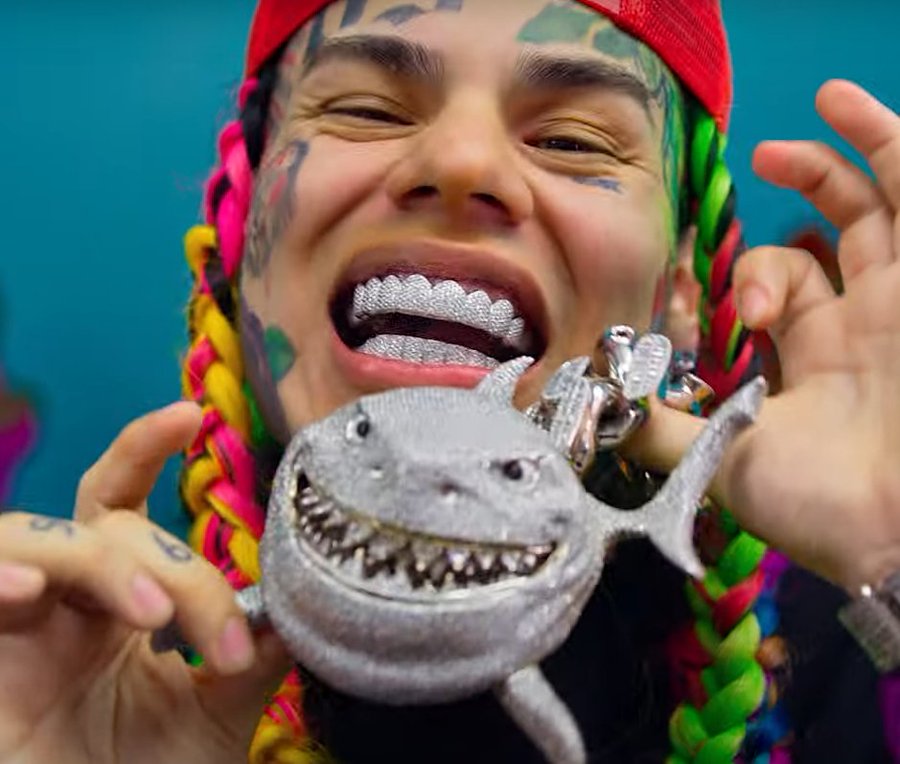 We agree because it targets a lot of audiences. Fans of Finding Nemo. People who love sharks. Fans of Tekashi69. People who appreciate stunning jewelry. Everyone gets something to cherish. 
Where can I buy Rapper's Chains & Pendants?:
Are you looking for a unique way to show off your style? Look no further than our iced out jewelry collection! From luxurious necklaces and pendants to earrings and rings, we have something to suit everyone's taste.
Our high-quality jewelry is crafted with attention to detail, ensuring you get a product that is sure to make an unforgettable statement.
Shop now and get ready to turn heads!
- Real Gold PVD Gold Plating

- VVS Clarity CZ Stones
-  Anti Tarnish Technology

- Lifetime Warranty
Don't forget to use the code ICEDOUT10 for an extra 10% off your purchase.
Come buy iced out jewelry from our online shop today!
Leave a comment