TOP 5 Most Expensive Rappers Jewelry Pieces
We can find some of the highest rapper jewelry prices among the most famous rappers such as Jay-Z, Rick Ross, T-Pain or the Migos. Very often, some iced out chains and pendants can reach $100,000 to $500,000. For some cases, it goes up to a solid $1,500,000 !
Today, we're going to go deeper in the topic and find out about who wears the most expensive jewelry in the Hip Hop industry, which rappers have some fake jewels, and how to get your favorite ones for the best price.
Five Most Expensive Rapper Chains ever seen
Here is a little top of the most expensive jewelries we have seen on our favorite rappers. Most of the time, it is custom made by very well-known jewelers like King John, Ben Baller or Mr Flawless.
1. Soulja Boy's Chain $500,000
With over 3 millions dollars spent on iced out jewelry, he is starting this top with a single chain that costs $500,000 ! You probably already have seen it over video clips or his social medias, he got his motto engraved with white diamonds around the neck: "The World is Yours".
2. Lil Jon Pendant $500,000
Lil jon is following with a pendant which is approximately the same price. With over 5 pounds of pure gold and gems, his "Crunt Ain't Dead" iced out pendant is worth $500,000 too. He got at the time the world records of the largest diamond pendant !
3. Mike Jones and the Ice Age $1,000,000
Another pendant for the owner of the independent label "Ice Age", Mike Jones. He got his custom-made jewel worth $1,000,000 of diamonds chain before it got stolen by one of his friends. Fortunately, he had a insurance for it !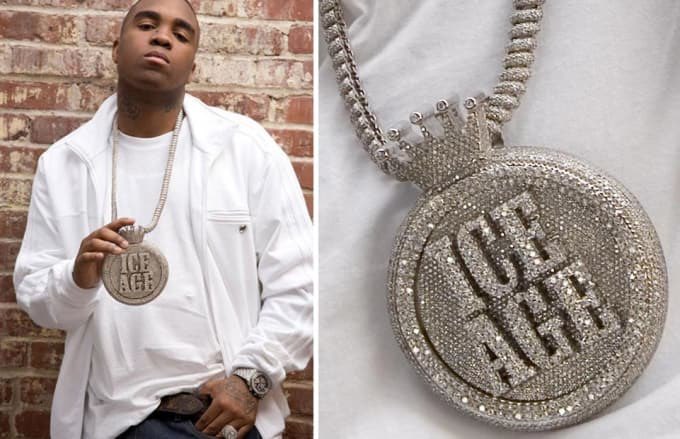 4. Pharell N.E.R.D Chain $1,000,000
The legendary singer, songwriter and rapper Pharell Williams tied with Mike Jones on the price of his NERD iced out chain: a $1,000,000 unique jewel ! It was custom made with his crew members by Jacob the Jeweler, what a priceless piece.
5. The Rick Ross Chain 
$1,500,000
That's right, $1,500,000 on a chain: it is the price Rick Ross paid to get his face directly made of diamonds and precious stones directly on a huge pendant. Even if he is well-known for having a very extravagant lifestyle, what a beast.
Is it real or fake jewelry?
First of all, we need to sort out the real chains from the fake ones, because we all know this expression is more than real among the streets: Fake it until you make it.
Many rappers actually pretend to have real chains, grillz and bracelets but when it comes to verify the authenticity of it, sometimes, we realize it is not that authentic after all. To be able to spot the difference between real and fake jewelry, the most used tool is a Diamond Tester.
Let's see together which rappers are in the "real jewelry team" and the "fake jewelry team".
Rappers with real Jewelry
We all know this famous photo of Drake showing out his $1,000,000 outfit with the iced-out watch and chain making most of the price. No doubt, it is all real: it was even custom made for him!
Fortunately, it is not the only one rapper having these kinds of expensive accessories. We can see the Migos or Da Baby on numerous videos taking them to jewelry shopping with other celebrities. In this case, the rappers jewelry prices are very often over $20,000 for a single item !
Rappers with fake Jewelry
Many rappers also got busted for wearing fake jewelry and then pretend it is all real. The most famous case is with Takeshi 6ix9ine: a famous video of him and a jeweler with a Diamond Tester, trying to figure out the authenticity of his chains. Most of it were fake, with no actual value on the market.
One thing was priceless thought: 6ix9ine's face when he realized it was all fake jewelry since the beginning, Of course he is not the only one, Big Sean and Ugly God got busted as well !
Get Rappers Jewelry online
After seeing all of these points, we are pretty sure you are hyped about getting some new chains, but maybe a bit less hyped to spend $300K on a single item for your jewelry collection. No worries, we got your back for every kind of profiles. Let's go from the people with the highest budget to the lowest, passing by the in-between quality you can get for your money.
1. A high budget for your rapper chains
Your budget is big, so your expectations for having a good chain are high: you should definitely reach the jewelers ready to make custom crafts for you. We will consider your budget as high since you can spend over $10,000 on your favorite jewels, other than that, please refer to the next section.
For sure, the quality of the gems will make the biggest part of the price: we have covered a full blog article on the various kinds of diamonds you can get following the purity of it. Also, you will have to consider the artisan's reputation: same as a tattoo artist, his skills are great, but following the customers he got, he will raise the price to keep his very exclusive branding.
Under $10K budget
Unless you are looking for a tiny piece like a ring or a bracelet, getting a custom-made iced out chain or pendant won't be an easy task. If you want to get the best price for value, you should refer to the most popular brands of luxury products such as Cartier, Tiffany & Co or Buccellati, which are brands very much appreciated by rappers for their jewelry.
You can still get some custom-made rapper chains but you will have to lower the quality over the gold and gems used for its crafting: the purity of the gem is hard to see on the naked eye, but makes all the difference on an iced out piece.
Maximum $1,000 budget
It might be hard to believe, but you can still get rapper chains under $1K with a good value for its price. The gems won't be authentic like a VVS Diamond, but you can still get real gold and silver for a good price.
Some websites, like us, have certified quality of s925 silver used for the conception of the rapper chains, and any other kind of jewelry. Make sure to check our latest collection, you won't be disappointed on the quality, promise !
Upgrade your style game with our fresh and flashy iced out jewelry!
Are you looking for a unique way to show off your style? Look no further than our iced out jewelry collection! From luxurious necklaces and pendants to earrings and rings, we have something to suit everyone's taste.
Our high-quality jewelry is crafted with attention to detail, ensuring you get a product that is sure to make an unforgettable statement.
Shop now and get ready to turn heads!
- Real Gold PVD Gold Plating

- VVS Clarity CZ Stones
-  Anti Tarnish Technology

- Lifetime Warranty
Don't forget to use the code ICEDOUT10 for an extra 10% off your purchase.
Come buy iced out jewelry from our online shop today!
Leave a comment