How to Choose the Perfect Iced-Out Pendant to Reflect Your Personality
Your jewelry should be a reflection of your personality, and iced-out pendants are no exception. With so many styles and designs to choose from, selecting the perfect pendant may seem daunting. In this article, we'll guide you through the process of finding an iced-out pendant that speaks to your unique character.
Find Inspiration from Your Favorite Artists
To get started, consider drawing inspiration from your favorite musicians or celebrities. Browse IcedUpLondon's collections to find pendants that resonate with your personal taste. For instance, check out the XXXTentacion jewelry collection or the Trippie Redd jewelry collection for inspiration from popular artists.
Explore Trending Styles
Keep up with the latest trends in iced-out pendants by exploring the New Drip collection. From bold, eye-catching designs to more subtle, minimalist pieces, this collection offers a variety of options to suit any personality. 
Express Yourself with Personalized Pendants
Personalize your pendant to make it uniquely yours. Custom letter are a great way to showcase your initials or those of a loved one. You can also opt for custom pendants featuring a name, phrase, or symbol that holds special meaning to you.
Choose a Pendant That Aligns with Your Interests
Select an iced-out pendant that represents your hobbies, interests, or passions. Are you a fan of anime? Explore the Iced-Out Dragon Ball Pendant collection. If you're a gaming enthusiast, consider an emoji pendant to express your love for the digital world.
Consider the Symbolism of Your Pendant
Some pendants hold spiritual or cultural significance, and choosing one that resonates with your beliefs can be a powerful way to express your identity. Browse through the iced-out ankh pendant collection for a symbol of eternal life, or the iced-out cross pendant collection to showcase your faith.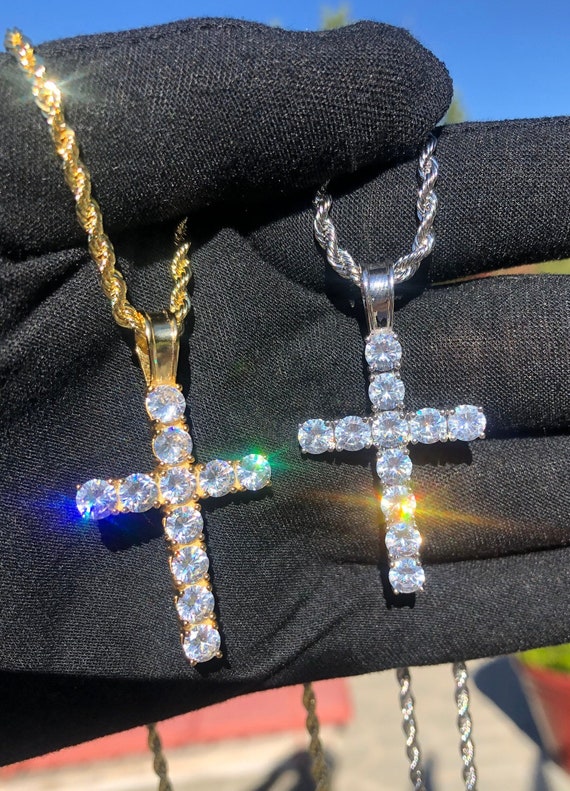 Mix and Match with Other Jewelry
Don't be afraid to mix and match your iced-out pendant with other pieces from your jewelry collection. Pair your pendant with a complementary iced-out chain, bracelet, or ring to create a cohesive, stylish look. You can also experiment with layering different pieces or combining different materials, such as combining an iced-out pendant with a pearl necklace for a unique and fashionable appearance.
Choose Quality Materials and Craftsmanship
When selecting your perfect iced-out pendant, prioritize quality materials and craftsmanship to ensure a long-lasting piece that will maintain its shine and sparkle. Look for pendants made from sterling silver or gold, and adorned with high-quality cubic zirconia or diamonds. Explore the clean solid silver pieces collection for inspiration.
Final Thoughts
Choosing the perfect iced-out pendant to reflect your personality is a personal and exciting journey. By considering your personal style, interests, and the symbolism behind different pendants, you can find a piece that truly represents you. Don't forget to mix and match with other jewelry pieces and prioritize quality materials to ensure a lasting, stunning pendant that will make a statement.
Remember to explore various collections, such as the iced-out pendants and letter pendants, to find a piece that speaks to you. Keep an eye on the new drip collection to stay up-to-date with the latest trends and releases.
Finally, be sure to read IcedUpLondon's blog for informative articles, guides, and inspiration on all things related to iced-out jewelry. For example, you can learn more about the history of bling in hip-hop or discover the best of Drake's jewelry collection.
By taking the time to research, explore, and understand your personal style, you can confidently choose the perfect iced-out pendant that reflects your personality and enhances your overall look. Happy shopping!
🔥 Unleash Your Inner Swag with IcedUpLondon.com 🔥
Looking to make a statement? Craving an upgrade to your style game? Look no further! IcedUpLondon.com is your ultimate destination for the finest, most eye-catching Hip Hop Jewelry 💎. Here's why you simply can't miss out:
1️⃣ Exclusive Designs: Stand out from the crowd with our unique, trend-setting pieces inspired by your favorite Hip Hop artists and influencers. There's no limit to the drip you'll find here!
2️⃣ Unmatched Quality: Our craftsmen use premium materials and meticulous attention to detail, ensuring your bling always shines as bright as your talent. Get ready to turn heads wherever you go.
3️⃣ Affordable Luxury: Who says you can't have it all? Our prices make it easy for you to build an enviable collection without breaking the bank. Flaunt your style, guilt-free.
4️⃣ Fast & Secure Shipping: Don't wait to look fresh! We offer worldwide shipping, getting your new favorite pieces to your doorstep faster than you can say "Iced Up."
5️⃣ Customer Satisfaction Guaranteed: Your happiness is our priority. With our responsive customer service and hassle-free returns, you can shop with confidence.
Don't settle for ordinary. Visit IcedUpLondon.com today and elevate your style to legendary status. 🔥💯🔥
Leave a comment