6ix9ine memes: the best we've seen so far!
The self-proclaimed "King of Instagram", Tekashi 6ix9ine (by his real name Daniel Hernandez), has a real fanbase for more than his well-known rap music and controversies.
Before spending about two years in jail, he was already posting a lot of memable content and funny clips of himself doing some random things. He still to this day, posts a lot of these to make fun of the people talking on him, or simply to entertain us all.
Today, let's get into the best 6ix9ine memes we've seen so far, on his own social medias, and the various other accounts that modified his content and says into some memes to create viral content around his character.
6ix9ine Memes from Instagram
Directly from his Instagram account, we've retrieved the best 6ix9ine memes he himself posted to keep on trolling the people around. Only 3 of our favorite ones, but you know you can still follow him to catch up with the most recent and hilarious ones.
Corridor Run
Let's get into it with one of the most famous one: that 6ix9ine meme of him running in a hotel corridor to show how fast he is. A bit of background on this Instagram post, which is not available anymore on his account: Tekashi posted a few days before a video of him playing soccer, and many people were talking about how slow he is about running.
He decides to grab his phone, tie his laces, and telling to everyone "I hate when people underestimate me, like how fast I am", and then proceeds to run as fast as possible in a hotel corridor. Short, funny, and typically a 6ix9ine meme that created a lot of comments and shares.
Tekashi on a Wagon
Another one directly taken from his Instagram account, that came out a bit after his homestay arrest ended. Casually, his security guards are taking him out in the streets of New York… on a wagon.
With a DMX's song on the background saying "Where's the Hood at", we can pretend it is a direct message to all the people said he will never be able to put a foot in the city after snitching on his old gang Nine Trey Bloods.
Shitty Boy
After discovering a rumor concerning Lil Reese about getting his pants brown (you know what we mean, come on), he also found a video of him as a "proof" of it. He later decided to parody it by showing himself in underwear imitating Lil Reese.
Here's the 6ix9ine meme, directly on his Instagram account, and we've to admit, it is kind of funny when we know the context.
6ix9ine Memes on Snitching
Unless you are living in a cave, Tekashi 69 got arrested with many charges 2 years ago, and got released early in the year of 2020. The main part on the controversy: he snitched on his previous gang and former members of criminal activities in New York to reduce his sentence to only 2 years behind the bars.
While this time, internet was going crazy about 6ix9ine memes, and we can only thank the users for their creativity! Here's our selection for the best ones we found over the web, with a bit of context to make sure you enjoy it as much as we do.
Snitchnine and the COVID
Well, at this point wherever you are in the world and reading this, there is probably a law preventing from gathering a large number of people in the same place to prevent the virus too spread. Hope you stay safe, mask on everyone !
6ix9ine and 21 Savage
You may have heard about the polemic on 21 Savage, as he was staying in the USA but originally from the UK. Thing that was kept hidden by the rapper, probably to keep a certain credibility… until this happens.
The snitch Last Supper
People got some real creativity on 6ix9ine snitch memes, at the point to link it with the famous Leonardo Da Vinci's painting: the Last Supper.
Snitch on Nine Trey Bloods
His old gang was seeing members getting arrested and imprisoned as fast as Tekashi was growing his Instagram account due to the recent events. He revealed not only the main gang members, people who kidnapped him, some that were staying unknown to police records… of course, internet had to go crazy on it.
For the context, Jerry Trainor is a famous actor from Nickelodeon and numerous kids-young teen movies and series.
Where's Waldo ?
You know, the struggle is real to find this guy sometimes. From our old kid books, how many hours did we spend on trying to find Waldo and once we've done it, it seems so obvious. No worries, that's normal, we're all the same, unless Tekashi snitch on him before you even open the book.
6ix9ine memes on his style
You can't miss his style: colorful, long hair, a body fully tattooed of 69,… that's a very atypical character who loves to drive attention around. Of course, many people have decided to compare him to a lot of different colorful universes in cartoons, games or even places. Let's get into it !
Tekashi and the Teletubbies
First of all, when you think cartoon, childish, colorful, you can only think about one thing: the Teletubbies, the show we've all seen in our childhood! But what if they got a bit gangsta ?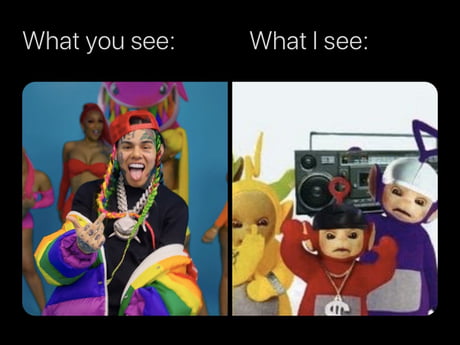 Bitten by an Unicorn
One of our favorites around the 6ix9ine memes, is the comparison with the Unicorns. Isn't it funny to see some gangsta rap (or more specifically troll rap in this case), being associated to a fantasy and kids universe ?
Cloudy with a chance of Meatball
Let's end up here our favorite 6ix9ine memes with a good old classic meme, "remember this person/character"; "this is him now". A famous animated movie from 2009 that has a character with some rainbow teeth, what a coincidence, and a good opportunity to make a meme out of it !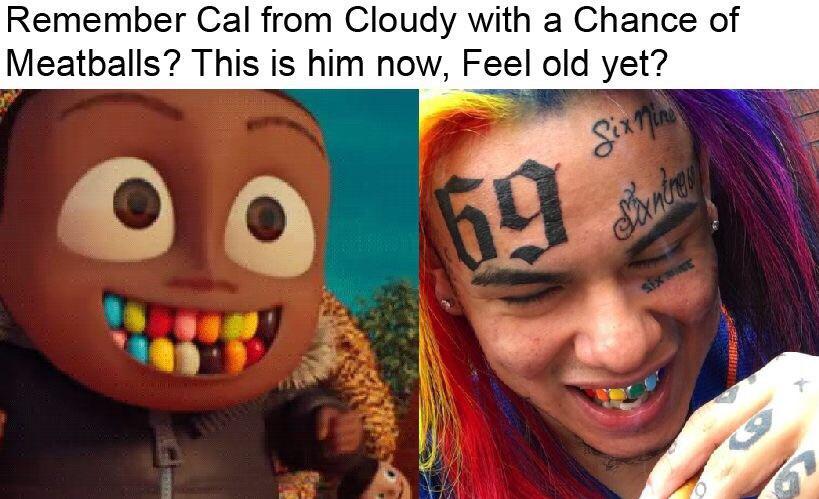 Let's get the Jewelry to the Memes
If you've enjoyed this blog article, make sure you check out some of our rapper chains directly available on our store. What would be great, is to send us your best 6ix9ine cosplays, or impressions you can make with our products, we will definitely repost it !
Leave a comment