Offset's Insane Jewelry Collection
Offset, one-third of the popular hip-hop group Migos, is known not only for his music but also for his extravagant taste in jewelry. His collection features some of the most lavish and expensive pieces in the world, totaling millions of dollars. In this article, we will dive into the details of Offset's iconic jewelry collection, exploring the significance and value of each piece.
The 14 Most Iconic Pieces in Offset's Collection
1. 50,000$ Raindrop Pendant
Inspired by Migos' hit song "Bad and Boujee," the 50,000$ Rain Drop Emoji Pendant features a diamond-encrusted raindrop.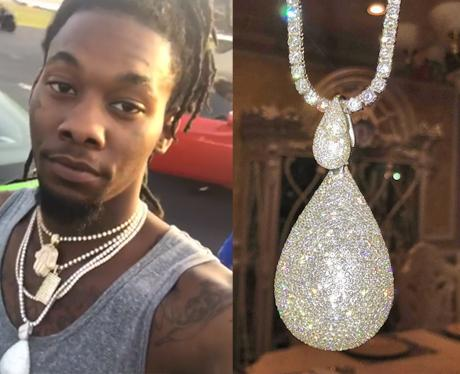 The pendant is designed to showcase Offset's affinity for unique and bold jewelry pieces, reflecting his flashy personality and love for all things luxurious.
2. Custom Offset Dripping Pendant 60,000$
The Custom Offset Dripping Pendant is a 60,000$ masterpiece that features the rapper's name, "Offset," in an iced-out dripping font.
This one-of-a-kind piece is designed to represent the rapper's distinct style and is adorned with high-quality diamonds that accentuate its overall aesthetic.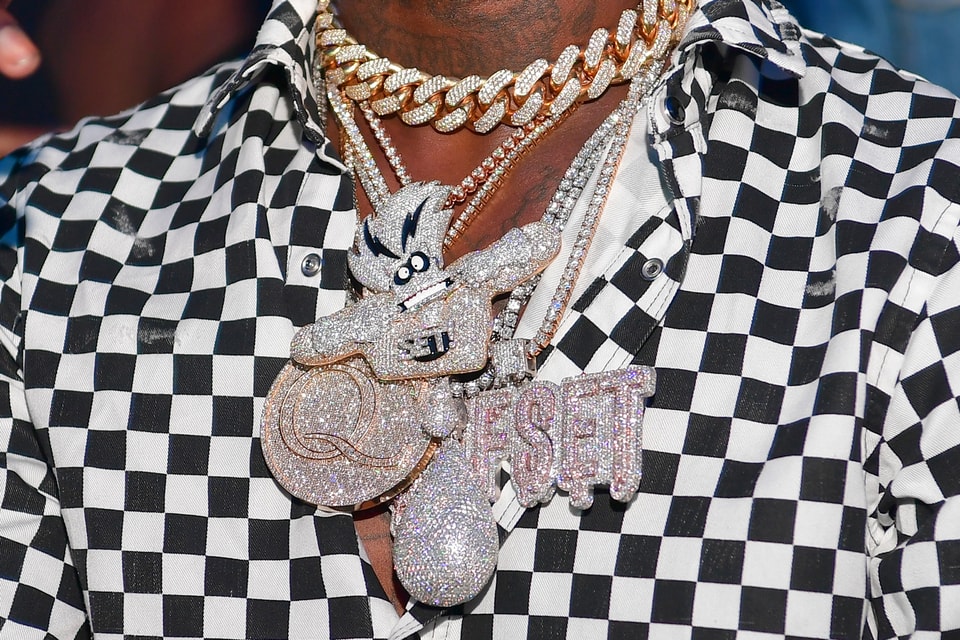 3. Two Tone Cross Pendant 220,000$
The Two Tone Cross Pendant is a breathtaking 220,000$ piece that showcases Offset's dedication to his faith. This pendant features a stunning two-tone design, with white and yellow gold embellished with diamonds, making it an eye-catching centerpiece in his collection.
4. Jesus Piece 25,000$
A classic symbol of faith, the 25,000$ Jesus Piece is a staple in Offset's jewelry collection. This diamond-encrusted pendant features a detailed image of Jesus Christ, symbolizing Offset's devotion to his religion.
5. Big Stones Tennis Chain 150,000$
The Big Stones Tennis Chain is a 150,000$ neckpiece that features large, high-quality diamonds in a tennis-style setting. This statement piece is designed to draw attention and showcase Offset's taste for luxurious and bold jewelry.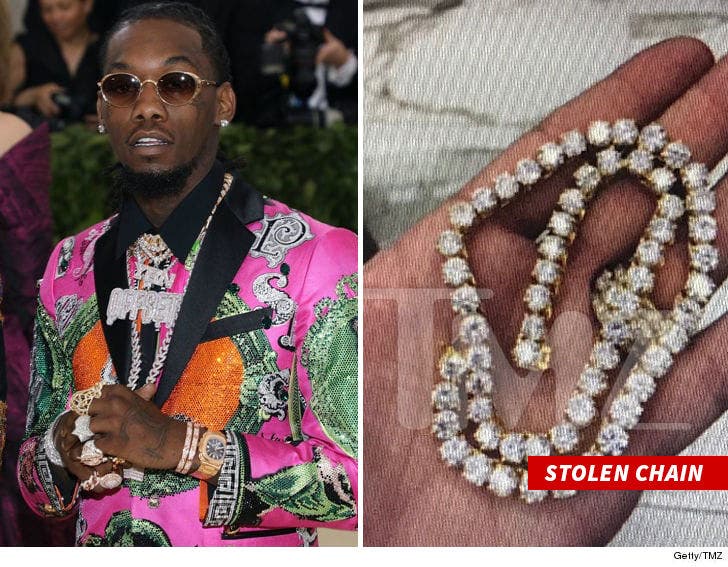 6. Trap House Pendant Chain 250,000$
The 250,000$ Trap House Pendant Chain is a statement piece that pays homage to Offset's background "Bando".
This intricate pendant features a detailed trap house design adorned with diamonds and comes with a matching custom cuban diamond chain, making it one of the most expensive and iconic pieces in his collection.
7. Golden Prong Set Cuban Chain 60,000$
The Golden Prong Set Cuban Chain is a 60,000$ piece that combines classic design with modern style.
This Cuban chain features prong-set diamonds along the entire length of the chain, adding a touch of extravagance to any outfit.
8. Baguette Cuban Chain, Franco Chain
Offset's collection also includes a Baguette Cuban Chain and a Franco Chain. These necklaces, though not as heavily adorned with diamonds as some of his other pieces, still make a statement with their unique designs and high-quality materials.
Offset's Rings Collection
9. Dollar Sign Ring 40,000$
A symbol of wealth and success, the 40,000$ Dollar Sign Ring features a bold dollar sign design encrusted with diamonds.
This ring not only showcases Offset's love for luxurious jewelry but also serves as a reminder of his rise to fame and fortune.
10. Cuban Ring 20,000$
The 20,000$ Cuban Ring is another example of Offset's affinity for Cuban-style jewelry. This ring is crafted from gold and features a unique design with diamond accents, making it a sophisticated addition to his collection.
11. Baguette Star Ring 30,000$
The 30,000$ Baguette Star Ring features a stunning star design made up of baguette-cut diamonds. This unique piece demonstrates Offset's taste for innovative and eye-catching jewelry designs.
12. Cartier Diamond Glasses 18,000$
Offset's love for luxury extends beyond jewelry to his choice of eyewear.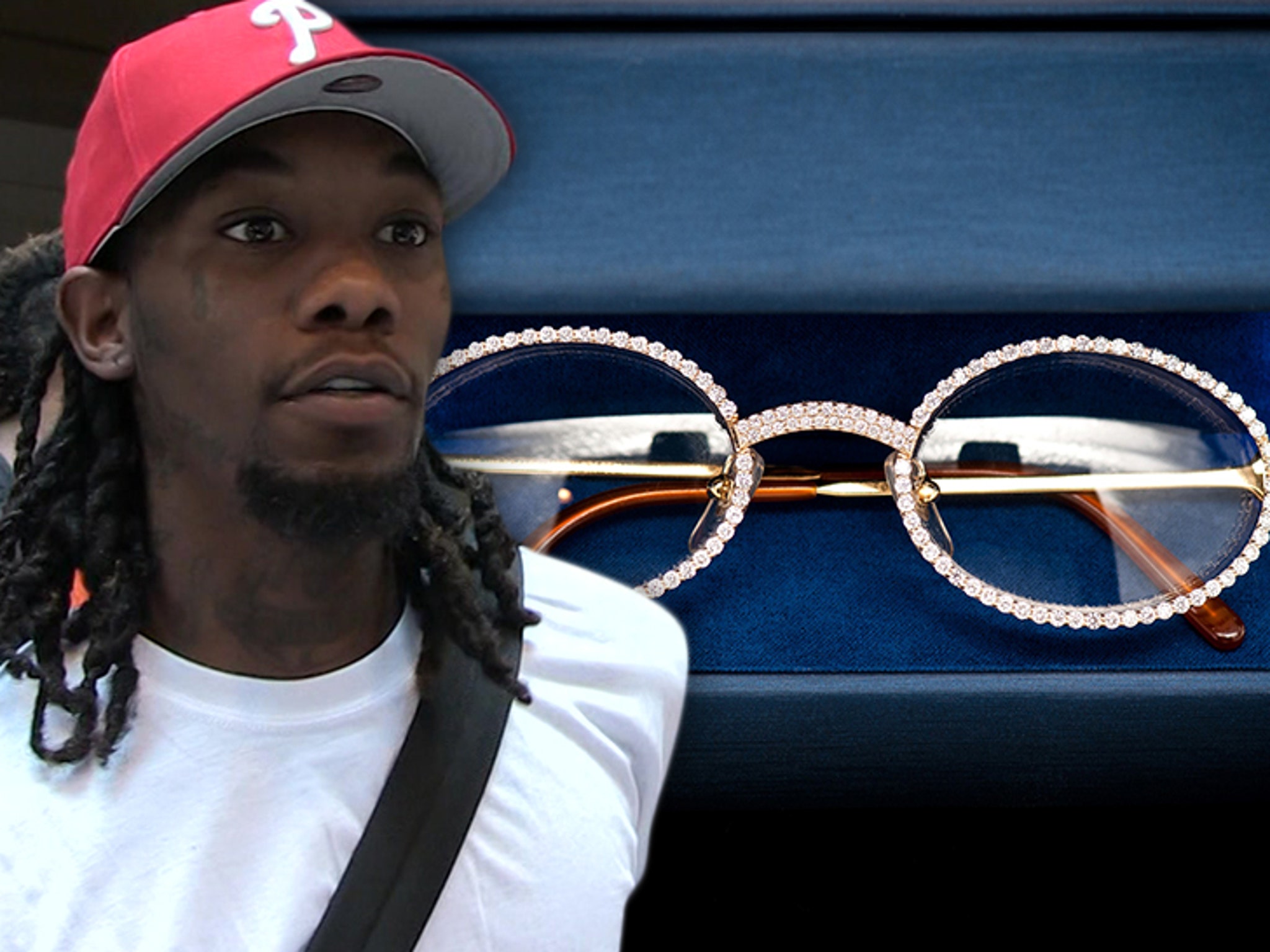 The 18,000$ Cartier Diamond Glasses feature a diamond-encrusted frame, making them a perfect addition to his extravagant collection.
Luxury Watches
13. Iced Out Richard Mille 220,000$
No luxury collection would be complete without a high-end timepiece. The Iced Out Richard Mille watch, priced at 220,000$, features a diamond-encrusted design that complements Offset's taste for opulence.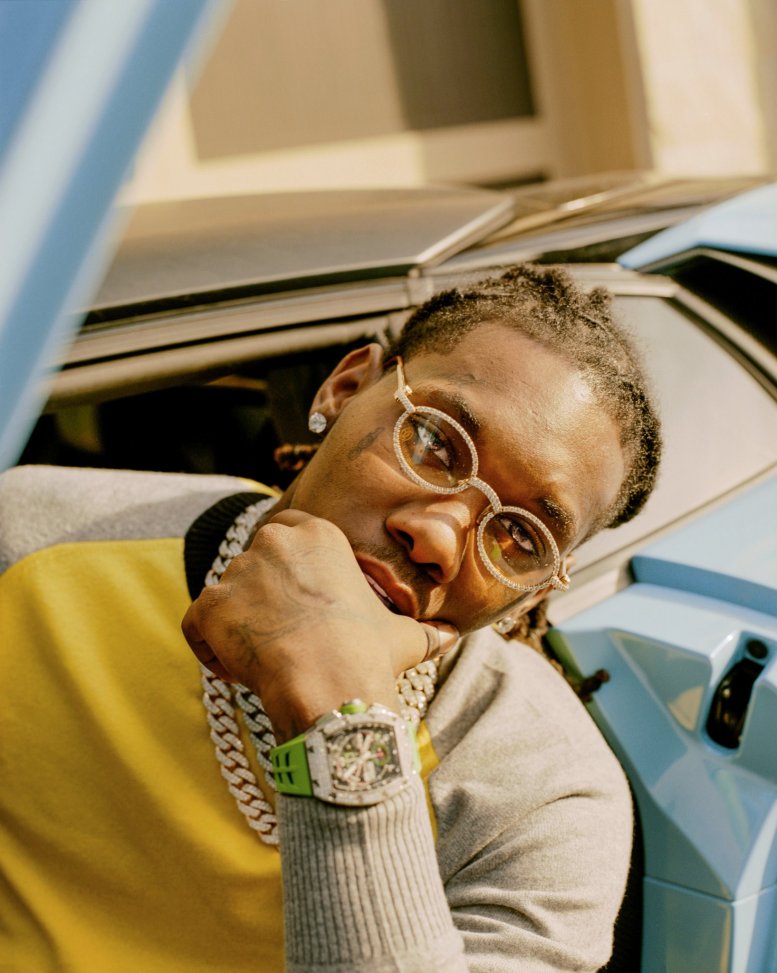 14. Iced Out Rose Gold Patek Phillipe 120,000$
Another luxury watch in Offset's collection is the Iced Out Rose Gold Patek Phillipe, valued at 120,000$. This stunning timepiece features a rose gold case and bracelet, adorned with diamonds, making it a symbol of wealth and sophistication.
Conclusion
Offset's jewelry collection is a testament to his love for lavish and unique pieces. From extravagant pendants to luxurious watches, each piece in his collection showcases his flashy personality and taste for the finer things in life.
While these items may be out of reach for most people, they serve as a source of inspiration for those who appreciate the artistry and craftsmanship behind such luxury items.
FAQs
1. What is the most expensive piece in Offset's jewelry collection?
The most expensive piece in Offset's collection is the Trap House Pendant Chain, valued at 250,000$.
2. How much is Offset's entire jewelry collection worth?
Offset's jewelry collection is estimated to be worth over 3 millions of dollars, although the exact value is difficult to determine.
3. Are all of Offset's jewelry pieces custom-made?
Many of the pieces in Offset's collection are custom-made, but some, like the Jesus Piece and the Cartier Diamond Glasses, are classic designs that can be found in luxury jewelry stores.
4. Does Offset wear all the jewelry pieces in his collection?

Offset is known to wear many of the pieces from his collection, often showcasing them during performances, events, and on social media. However, it's likely that he doesn't wear all of them regularly, as some pieces may be reserved for special occasions or kept as investments.
🔥 Unleash Your Inner Shine with IcedUpLondon.com 🔥
Looking to make a statement? Craving an upgrade to your style game? Look no further! IcedUpLondon.com is your ultimate destination for the finest, most eye-catching Hip Hop Jewelry 💎. Here's why you simply can't miss out:
1️⃣ Exclusive Designs: Stand out from the crowd with our unique, trend-setting pieces inspired by your favorite Hip Hop artists and influencers. There's no limit to the drip you'll find here!
2️⃣ Unmatched Quality: Our craftsmen use premium materials and meticulous attention to detail, ensuring your bling always shines as bright as your talent. Get ready to turn heads wherever you go.
3️⃣ Affordable Luxury: Who says you can't have it all? Our prices make it easy for you to build an enviable collection without breaking the bank. Flaunt your style, guilt-free.
4️⃣ Fast & Secure Shipping: Don't wait to look fresh! We offer worldwide shipping, getting your new favorite pieces to your doorstep faster than you can say "Iced Up."
5️⃣ Customer Satisfaction Guaranteed: Your happiness is our priority. With our responsive customer service and hassle-free returns, you can shop with confidence.
Don't settle for ordinary. Visit IcedUpLondon.com today and elevate your style to legendary status. 🔥💯🔥
Leave a comment