Lil Uzi Vert's Jewelry Collection
Lil Uzi Vert, also known as Lil Uzi, is a popular American rapper known for his unique and wild personality. He is known for his energetic performances, catchy lyrics, and distinctive style.
He recently made headlines for getting a giant pink diamond pierced in the middle of his forehead. The diamond, which was purchased from the jeweler Elliot Eliantte. Lil Uzi's Diamond Forehead is said to be worth $24Million USD. This move has sparked a lot of discussion and opinions among fans and critics alike. Some appreciate the bold move and see it as a way for Uzi to express himself, while others find it to be a bit over the top.
Uzi is known for his love of jewelry, and he has a wide collection of iced jewelry that he often showcases on social media. He has been spotted wearing diamond chains, watches, and rings, and it is clear that he has a taste for the finer things in life. He has also been known to collaborate with jewelers to create one-of-a-kind pieces that reflect his unique style.
Lil Uzi Vert vs the world' Scott Pilgrim Necklace
Price: $100,000
Back in 2016, he released his third mixtape, "Lil Uzi Vert vs. the World," which many consider to be his breakthrough project. The title of the mixtape is a playful reference to the cult classic film "Scott Pilgrim vs. the World."
To further pay homage to the film, the cover of the mixtape features a cartoon version of Lil Uzi with purple hair, drawn in the same style as the characters in the film. To commemorate this moment, celebrity jeweler Ben Baller created a one-of-a-kind necklace that features an illustration of Lil Uzi in this style. The necklace is made up of 100 carats of diamonds and other precious stones, and is valued at $100,000 according to IF & Co website. It comes suspended on a candy-colored Gucci link chain, much like Pharrell's.
This necklace is the ultimate representation of Lil Uzi's rise to the top, and it's just a taste of the bling that Lil Uzi has in his collection.
Lil Uzi Vert's
 Marilyn Manson Spiked 

Choker
Price: $220,000

The necklace, crafted by celebrity jeweler Ben Baller, takes inspiration from none other than the legendary Marilyn Manson. The iconic image of Marilyn Manson from the "Mechanical Animals" album cover has been transformed into a one-of-a-kind necklace, featuring a 3D-printed pendant that's fully iced out with VVS diamonds. The pendant is made of solid white gold and it opens to reveal a hidden message engraved inside. The chain is made of 14k white gold and it's also iced out with VVS diamonds.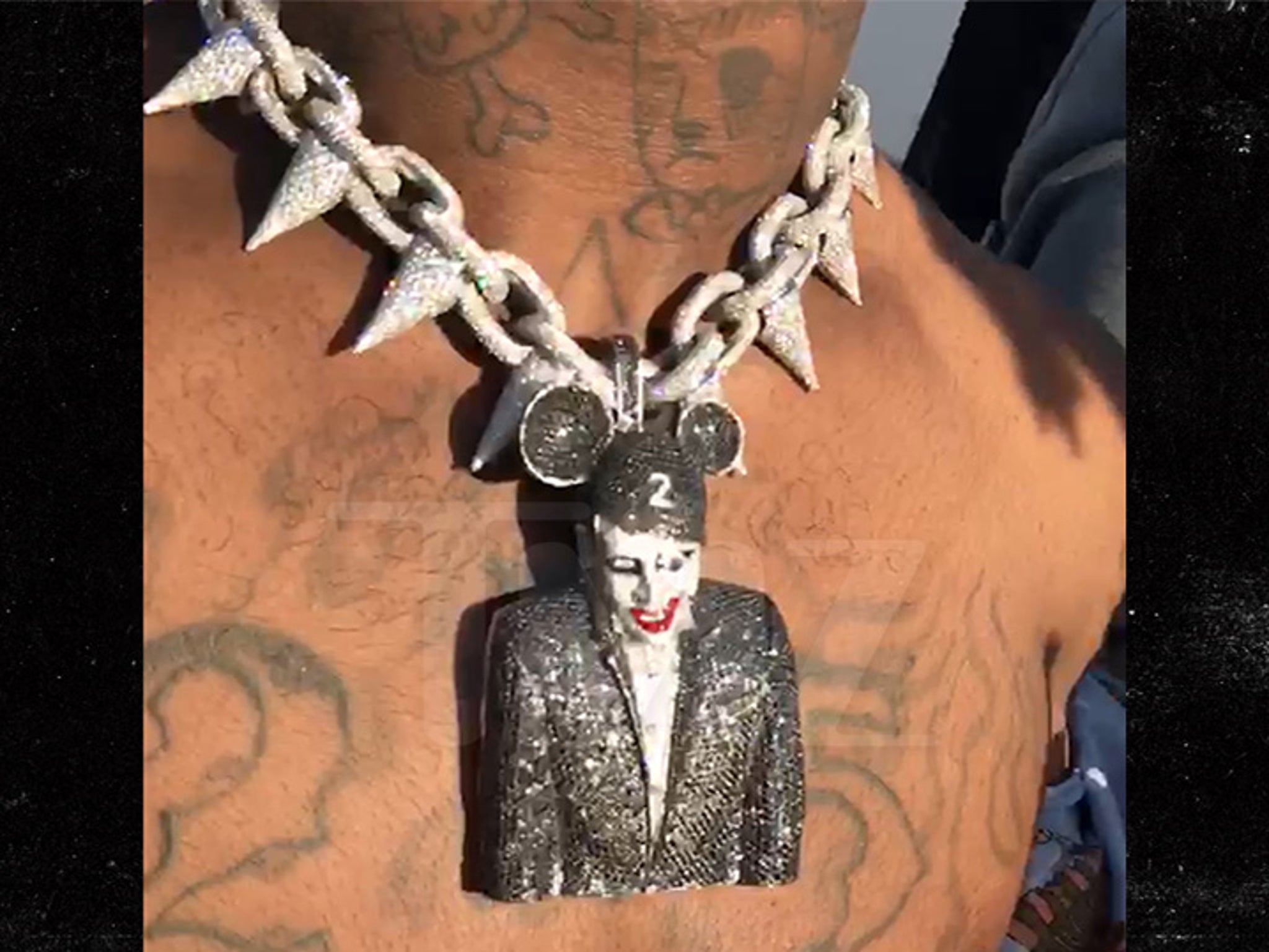 This necklace is not just a fashion statement, it's a masterpiece that combines art, music, and bling. It's worth $220,000. Fans of Lil Uzi Vert, Marilyn Manson, or anyone who appreciates unique jewelry will want to check out this piece. It represents Lil Uzi's unique style and shows that he's not afraid to stand out from the crowd.
Lil Uzi Vert's
 

Ring with pink diamond
Price: reportedly $100,000-$200,000

Lil Uzi Vert, known for his bold and unique style, recently acquired a new piece of jewelry that is truly one-of-a-kind. To commemorate his 25th birthday, he purchased a ring from Eliantte that features a substantial pink diamond stone at its center, surrounded by a halo of smaller diamonds. The ring is estimated to be worth between $100,000 and $200,000.
This pink diamond ring is just one of many incredible pieces that Uzi acquired to celebrate his milestone birthday. He also purchased a pink cross necklace, pink diamond earrings, a bedazzled Chrome Hearts Rolex, a 1600 Francisville necklace, a Freebandz Eagle pendant, and even diamond dental fillings.
It's estimated that Uzi may have spent over a 10million dollars on jewelry alone, not counting other gifts such as a Bugatti, similar to the one that Mayweather bought for himself. To top it off, his birthday cake was even decorated with diamonds and dollar bills, truly living up to the phrase "ballin' out of control"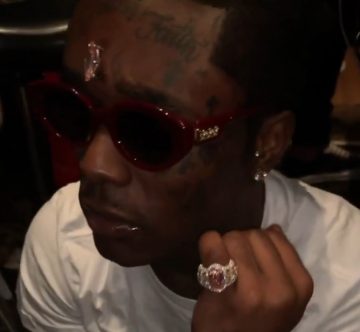 As a fellow rapper and jeweler, I can appreciate the level of luxury and extravagance that Uzi has achieved with his jewelry collection. It's clear that he has a keen eye for quality and uniqueness, and his ring game is truly on point.
Lil Uzi Vert's Upside Down Cross Necklace
Price: $350,000
One of the most striking pieces in Uzi's jewelry collection is this upside-down cross necklace, created by the renowned jeweler Eliantte. This necklace perfectly illustrates Uzi's passion for the occult and punk and gothic subcultures. The necklace was even worn by Uzi when he was nominated for Best New Artist at the 2018 Grammys, and it was completed just three hours before the show.
The necklace features a 60-carat inverted cross, wrapped in gold and adorned with diamond tendrils. It hangs from an 80-carat diamond chain, making it a truly impressive piece. The necklace is worth $350,000 and is a true representation of Uzi's bold and unique style.
It's worth mentioning that in 2017, Offset criticized Uzi for wearing upside-down crosses, but Lil Uzi has not been affected by it, he continues to wear it and express himself through his jewelry choices. As a fellow rapper and jeweler, I can appreciate the level of luxury and extravagance that Uzi has achieved with this necklace, and it's a clear representation of his artistic expression and personal style.
Lil Uzi Vert's Pink Diamond Forehead Piercing
Price: reportedly $24 million
This piercing, which is located in the center of Uzi's forehead, features a real pink diamond of over 11 carats. The final price for this piece has not yet been determined, but it has been suggested that it could reach as high as $24 million, making it one of the most expensive pieces of jewelry in the world.
Uzi began paying for the diamond in 2017, and it took him 4 years to complete the payment. He even tweeted that his Bugatti can't even afford it, and that all his cars and house combined still can't match the price of this diamond. The diamond is his favorite metal possession.
As a fellow jeweler, I can attest to the rarity and value of natural pink diamonds. The fact that Uzi was able to acquire one, and have it placed as a face piercing, is truly extraordinary. This piercing is not only a symbol of his wealth and status, but also a representation of his unique style.
Where can you buy Jewelry like Lil Uzi Vert?
If you're into bling, you gotta check out Lil Uzi's jewelry collection. This guy's got some serious ice, from the $24Million giant pink diamond on his forehead to his iced-out chains, watches, and rings. He's always getting custom pieces made by the dopest jewelers.
If you're looking to level up your own jewelry game, you need to check out ICED UP LONDON. We got the freshest iced out jewelry at prices that won't break the bank. Don't sleep on it.
Our high-quality jewelry is crafted with attention to detail, ensuring you get a product that is sure to make an unforgettable statement.
Shop now and get ready to turn heads!
- Real Gold PVD Gold Plating

- VVS Clarity CZ Stones
-  Anti Tarnish Technology

- Lifetime Warranty
Don't forget to use the code ICEDOUT10 for an extra 10% off your purchase.
Come buy iced out jewelry from our online shop today!
Leave a comment