The Ultimate Guide to Iced Out Rings for Men
Iced out rings have become increasingly popular in men's jewelry over recent years. These rings are adorned with diamonds or cubic zirconia stones, giving them a luxurious, "iced out" look. In this buying guide, we'll explore the different types of iced out rings available for men, how to choose the right one for you, and tips for caring for your new bling.
Types of Iced Out Rings for Men:
Diamond rings: These rings feature real diamonds and are the most expensive option. They are also the most durable and long-lasting.
Cubic zirconia rings: These rings feature man-made stones that closely mimic the look of diamonds. They are a more affordable option and come in a variety of colors.
Lab-created diamond rings: These rings feature diamonds that are grown in a lab, rather than mined. They are a more sustainable option and are often less expensive than natural diamonds.
How to Choose the Right Iced Out Ring for Men:
Consider the metal: The metal used in the ring can affect its durability and color. Popular options include gold, white gold, and platinum.
Size and fit: Make sure to choose a ring that fits comfortably and won't fall off easily.
Quality of diamonds or cubic zirconia: Look for a ring with high-quality stones that are well-cut and have minimal inclusions.
Personal style: Choose a ring that complements your personal style and fashion sense.
How to Care for Your Iced Out Ring:
Cleaning and maintenance: Regularly clean your ring with a mild soap and water, and take it to a jeweler for professional cleaning.
Storing your ring: Store your ring in a safe place, such as a jewelry box or safe deposit box, to prevent damage.
Insurance for your ring: Consider insuring your ring to protect it from loss or damage.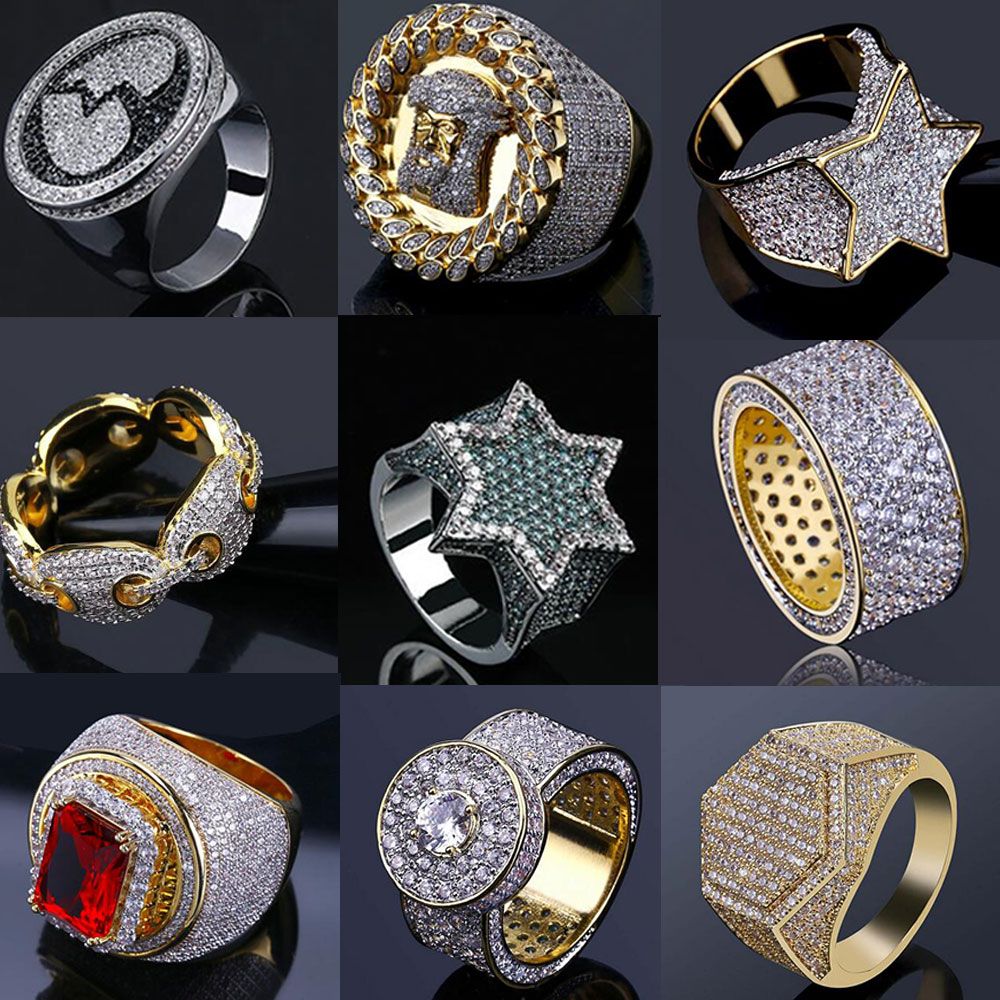 Conclusion:
Iced out rings are a stylish and luxurious addition to any man's jewelry collection. With the right care and maintenance, they can be enjoyed for years to come. Consider your personal style, budget, and the quality of the diamonds or cubic zirconia when choosing the perfect iced out ring for you.
WHERE CAN YOU BUY ICED OUT RINGS?
Are you looking for a unique way to show off your style? Look no further than our hip hop jewelry collection! From luxurious necklaces and pendants to bracelets and rings, we have something to suit everyone's taste.
Our high-quality jewelry is crafted with attention to detail, ensuring you get a product that is sure to make an unforgettable statement.
Shop now and get ready to turn heads!
- Real Gold PVD Gold Plating

- VVS Clarity CZ Stones
-  Anti Tarnish Technology

- Lifetime Warranty
Don't forget to use the code ICEDOUT10 for an extra 10% off your purchase.
Come buy hip hop jewelry from our online shop today!
Leave a comment