TOP 10 RAPPER CHAINS YOU DON'T KNOW ABOUT
10. XXXTENTACION Chain
XXXTentacion was a controversial rapper who was murdered in 2018 at the age of 20. His death sparked a lot of debate on social media, and many people have opinions about his music and his personal life. The XXXTENTACION chain is a unique piece that can be appreciated for its simplicity. Xxxtentacion chain is 27 inches, his chain is also called the "dog leash chain" because of his length.
The X has been engraved on the top of the chain, which was XXXTENTACION's trademark symbol. The overall effect is one of opulence and grandeur, but it's made from relatively simple materials. This makes it a great choice for anyone who wants to make their look more memorable without going overboard.
9. Trippie Redd Blood Moon Pendant
Trippie Redd is one of the most popular rappers today, but he's known for more than just his music—he's also known for wearing this Blood Moon pendant that has become synonymous with him. The Blood Moon pendant is supposed to symbolize power, strength, and magic. It has been worn by celebrities like Chris Brown and Kylie Jenner.
The Trippie Redd Blood Moon Pendant is a unique piece of jewelry that is sure to make you stand out. With a bold red-and-black color scheme, this chain features a large pendant that is decorated with the Blood Moon design and diamonds. The chain itself is made of white gold, so it will not tarnish over time.
8. Lil Uzi Vert Marilyn Manson Chain
The Lil Uzi Vert Marilyn Manson Chain is one of the most popular chains worn by rappers in recent years. It features a pendant that has the face of Marilyn Manson on it, with his name written in cursive. The chain has a length of about 16 inches, making it an ideal size for many different styles of clothing.
The Lil Uzi Vert Marilyn Manson Chain is a bold piece that stands out from other chains in terms of its design and color scheme. The spiked choker chain itself is made of white gold and iced out, like the pendant on the end is fully covered in diamonds.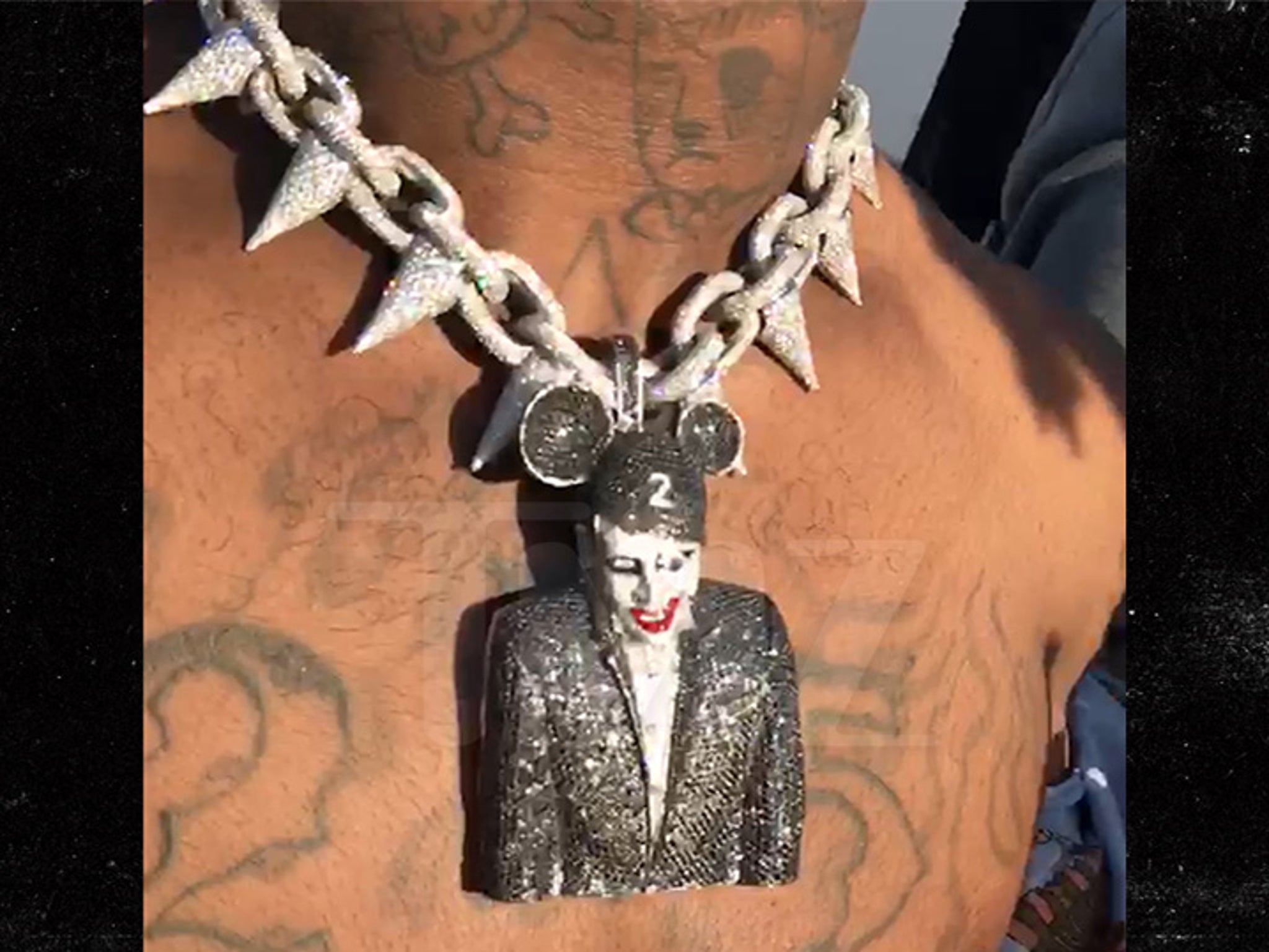 This gives the entire piece an overall shiny look that makes it very eyecatching when worn around someone's neck. If you're looking for something edgy, but also want to make sure your jewelry doesn't look too gaudy or over-the-top, this piece from Lil Uzi Vert might just be what you're looking for!
7. Offset Tear Drop Pendant
Offset's tear drop pendant has been a favorite of his since he first started rapping. If you're looking for the perfect chain to hang from your rapper's neck, look no further than the Offset Tear Drop Pendant. This chain has it all: a tear drop shape that can be worn on a necklace, or even as a pendant on a bracelet! The chain is made of sterling silver and has an antique finish.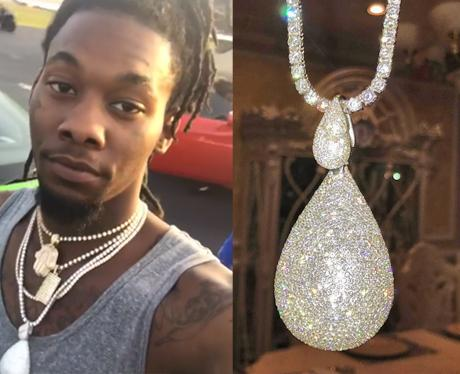 And if you want to add some bling to your new piece, there are two different types of pendants you can choose from: one with diamonds and one with emeralds. The chain features a gold tear drop pendant that is surrounded by diamonds. The chain itself is made of white gold, with yellow gold accents. The Offset Tear Drop Pendant is the perfect addition to any rapper's wardrobe.
6. "21 Savage" Slaughter Chain
This chain is made of yellow gold and diamonds, and it's one of the most well-known chains in the game.  The Slaughter Chain was designed by 21 Savage himself and features a pendant that reads "SLAUGHTER" and "GANG" in bold letters, in between a black and red skull.This chain can be seen in many photos of 21 Savage wearing it during performances and events—it's not hard to spot!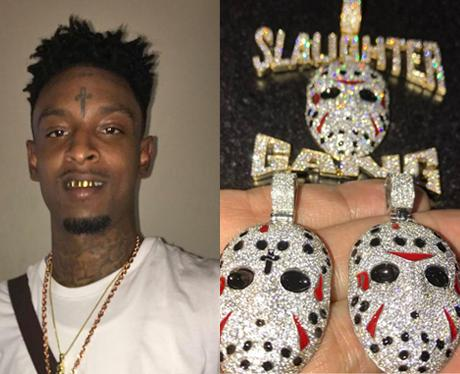 5. Quavo Ratatouille Chain
Quavo's chain is quite the eye-catcher. It's a gold chain with a pendant of a cartoon rat and Quavo with a cooking hat. A chain like that isn't something you see every day, and it certainly stands out in the crowd.
This isn't just any old chain either—this is a limited edition chain that was created for Quavo himself, and loved by his friends and family. The chain is made from 18k white gold and pure VVS diamonds, and it has an adjustable clasp on the back so you can wear it at your preferred length.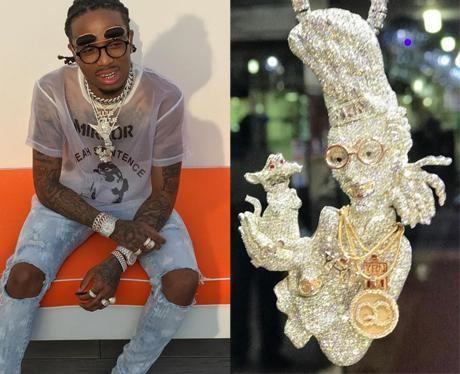 4. Drake Stone Island Chain
Designed by Ben Baller, the Drake Stone Island Chain is a classic piece of jewelry. The chain, made from gold, diamonds and sterling silver, has a lobster clasp and pendant. The pendant is an engraved version of the Stone Island logo. This chain is made for people who love the look and feel of a classic but want to add their own twist with a personal touch to their jewelry collection. 
3. Polo G's Goat and Boo Chains
One of Polo's most notable accessories is his goat chain. The goat chain was popularized by Atlanta rappers Gucci Mane and Waka Flocka Flame, who wore it during their time in prison. The chain features an image of a goat head on the pendant part and "THE GOAT" incrusted in diamond. 
2. Roddy Rich RR Chain
The Roddy Rich RR Chain is a popular piece of jewelry that has been appreciated by many famous rappers, it's one of the best chains to show off your wealth and success. The chain consists of three rows of diamondencrusted links, each containing diamonds. "RR" means Roddy Rich, but also: Rolls Roys, Range Rover and more.
1. Lil Baby 4PF Chain
Lil Baby's 4PF chain has a simple, minimalist design that makes it stand out from the crowd. The chain is made of straight prong set diamonds and white gold. It features a large pendant with Lil Baby's logo "4PF". The pendant also has a beautiful diamond cut design that makes it stand out against the rest of the chain. This chain is perfect for any occasion! It's great because it looks good with anything you wear and will last you for years to come!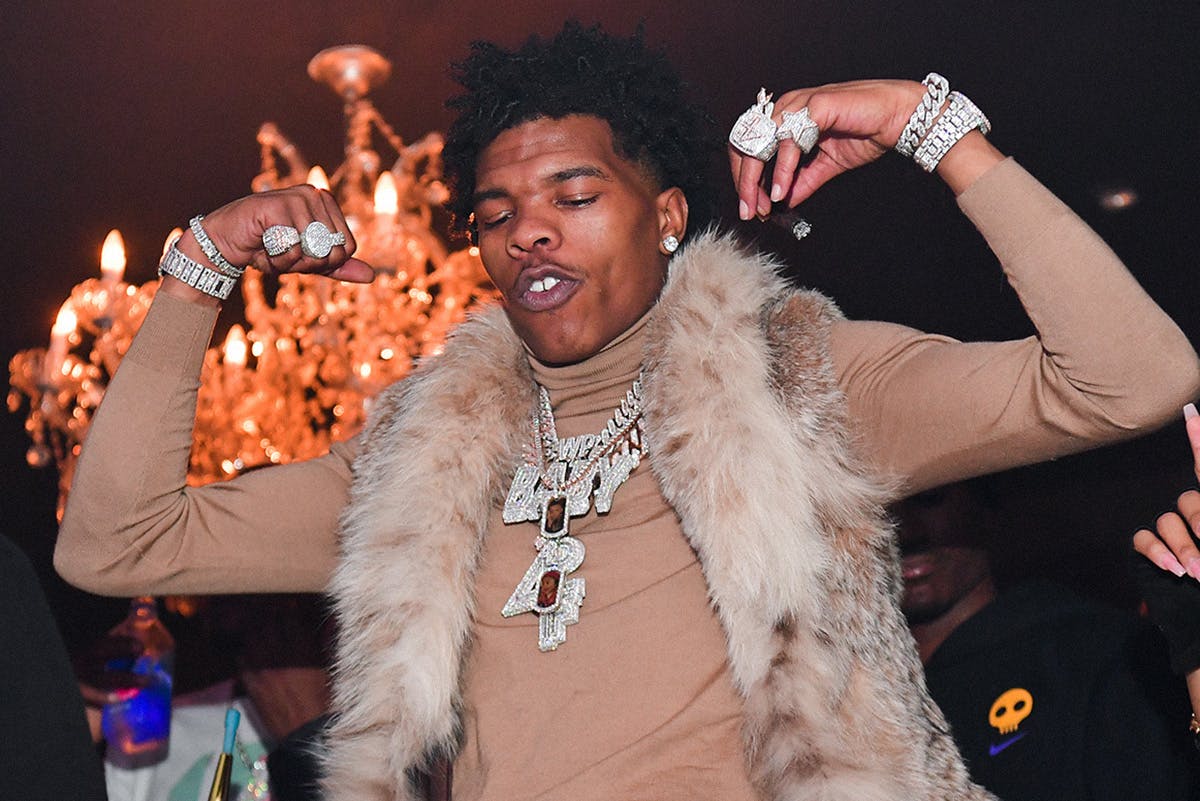 Did you find a perfect fit for your attire? Which one was your favorite? Is there a piece so flashy that just cannot be pulled off?
We can't wait to see your answers in comments below !
Upgrade your game with our fresh and flashy hip hop jewelry!
Are you looking for a unique way to show off your style? Look no further than our iced out jewelry collection! From luxurious necklaces and pendants to earrings and rings, we have something to suit everyone's taste.
Our high-quality jewelry is crafted with attention to detail, ensuring you get a product that is sure to make an unforgettable statement.
Shop now and get ready to turn heads!
- Real Gold PVD Gold Plating

- VVS Clarity CZ Stones
-  Anti Tarnish Technology

- Lifetime Warranty
Leave a comment